Voting closes on 30 September for Historic Houses Garden of the Year 2021, so don't miss it! The Garden of the Year Award, sponsored by...
This Chelsea Flower Show garden will live on in a Dartford mother and baby unit. With millions of people turning to gardening to lift their...
Bewl is home to the largest stretch of inland water in the South East. Woodland and scenic landscapes surround the water's edge, and there...
80TH COMMEMORATION OF THE BATTLE OF BRITAIN AT BIGGIN HILL On Tuesday 15 September, otherwise known as 'Battle of Britain Day', the Biggin Hill Heritage...
The Who'd A Thought It is a beautifully-restored 16th century building set in the picturesque Kentish countryside. Combining cosy intimacy with eye-catching decor, it...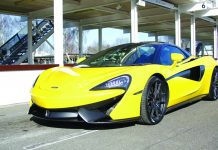 Booking a super-hot supercar experience as a Valentine's Day treat for your loved one will be a gift for yourself, too! Leading driving experience provider...