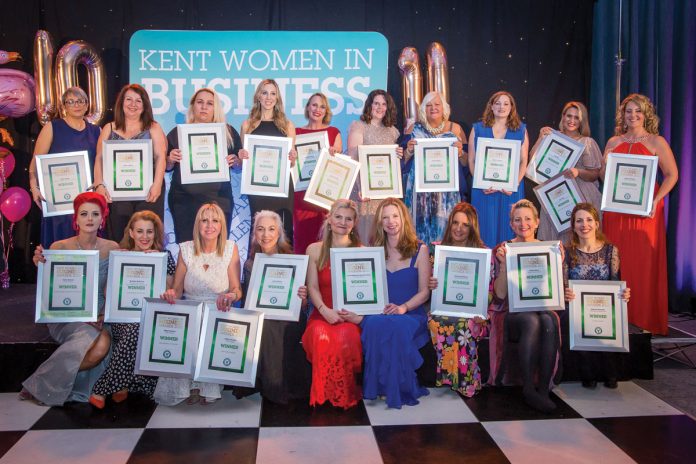 The county's most successful female professionals are brought together for the Kent Women in Business Awards.
This year is a big year for women in business in Kent. On 11 March many of the county's most successful female professionals were brought together to celebrate the KWIB Awards for the 10th time. Launched in 2013, the event has become an inspiring focal point in the business calendar. 
Held at the Ashford International Hotel, the gala evening began with a celebratory atmosphere that continued throughout, long after the final award was presented.
Host Hilary Steel said: "To host such an event and to be on that stage where you can hear a pin drop as people eagerly await the results is a highlight of my own career. Over the past nine years so much has changed in the business world and I'm proud to be part of this change."
Each year the winners are selected by an independent panel of judges, who are all successful in their own right. Some are previous winners, but all have a track record of success. This year there were 20 categories covering a wide range of experience and skill sets with an Inspired Achievement Award presented at the end of the evening.
A full list of winners can be found at: kwibawards.co.uk/2022-results
Over the years there has been a total of 181 winners who have stepped on to the stage. An undefined number of glasses of bubbles have been raised in a toast to many admirable and successful women in business, and an amazing number of new relationships have been formed, both on a professional and friendship level.
As organisers of this event, Hilary Steel and Sue Smith gain the chance to bring together some truly talented and inspirational business professionals. 
And the winners are…
New Business of the Year and Innovative Business of the Year: Gillian Huntley – Elite Probes
Gillian saw an opportunity and worked hard to develop the Elite Probes as a stand-alone business. With her many years' experience within the beauty industry, she was able to combine her sector knowledge and customer needs to create a product that is now being stocked all over the world.
Digital Business of the Year: Kizzie Nicholson – Social Fireworks Ltd
The relationship that Kizzie builds with her clients goes above and beyond as she and her team seek to truly understand their objectives and how they can work together to meet them. The team are constantly learning and adapting to the changes within social media and are able to quickly and efficiently translate these changes into their portfolio.
Community Champion Award: Karen Clifford – Vision Communication
Karen is so passionate about what she does, and her track record of achievements is so inspiring, with most recently the children's choir being picked to sing on Children in Need. As an organisation, the focus on fundraising as much as they can is at the heart of their tune!
Mumpreneur of the Year: Michelle McCance – The Small Business Social Club
Michelle has gone through some pretty monumental changes in her life while launching her business, including moving from Manchester to Folkestone after changing careers and retraining in a new area. All while balancing home life with a 14 year old, a five year old and a one year old. Undeterred by the challenges that followed, she is well positioned to help her clients achieve their own objectives.
Home-Based Business of the Year: Sally Gridley – Dinky Ones Early Years
Sally is a woman on a mission when it comes to anything to do with early years and the childcare sector. Her passion is even more appreciated at the moment as morale in the sector is at an all-time low.
Employer of the Year: Siobhan Stirling – Sharp Minds Communications
There is a culture within Sharp Minds that not only encourages personal growth and development but also the nurturing of staff through apprenticeships, internships, and very flexible working. Siobhan is passionate about supporting her staff in any way she can, and this was shown clearly through the staff comments in her application. 
Women in PR and Marketing: Lucy Hall – Avviso Media Ltd/ Digital Women
Lucy has forged an impressive path to become an extremely deserving winner of this award. She currently leads a community of 70,000 women, and is recognised as a lead blueprint trainer for Meta, Facebook. She has also been named as one of Computer Weekly's most influential women in tech for two years in a row. This only scratches the surface of this very deserving winner. 
Young Business Woman of the Year: Taylor Rickner – Love to Tutor
Taylor started her business at the age of 24 without any investment. Her ambition was fuelled initially by her passion, then expanded through her ability to capture growth in a market close to her heart. She has adapted the business to reflect upon the changing times and is an inspiration for anyone who is thinking about starting a business. 
Leadership and Management Award: Penny Reid – Exima
Exima is a company that supports primarily schools with the varying sides to their business. Penny is the driving force to help these organisations change what are, effectively, very difficult situations. She possesses the resources and the skills to help shape and develop current cultures into more productive and well-functioning areas, including future growth.
Creative Business of the Year: Sofia Docwra – Gloss Enterprises
Sofia has developed her innate creative skills throughout her career and has continued to grow. From antique restoration to being a skilled draftswoman to being able to turn MDF into beautiful marble with paint. Her talents and experience now make her a sought-after candidate for some fabulous and fascinating projects.
Professional Achievement Award: Ismini Phillips 
Ismini has never stopped learning and developing professionally since she started out teaching Pilates 15 years ago. Her industry qualifications are impressive, as is her resilience and ability to continue to develop and grow the business no matter what challenges she has had to face. 
Women in Education: Deborah Salisbury – The Reading Doctor 
From a being a young girl who found learning to read a chore to becoming an inspirational and visionary business woman where the focus is on reading is testament to the passion and determination Deborah has to help children have learning access for all. The Reading Doctor has expanded and continues to expand through a collective of well-supported franchises.
Service Excellence Award: Sarah Harknett – East Kent Foot Care
Many of the people Sarah comes into contact with are housebound, and often vulnerable. Her customer service, or customer experience, has been developed through a mix of experience working within the caring industry and her natural ability to build a culture within her processes that match the needs of those in need.
Women's Champion Award: Liz Goodfellow and Danielle Earley – Fit for Business
Liz and Danielle founded a partnership that truly brings women together and supports them on many different levels. Their previous professional backgrounds blend perfectly into the partnership and together they embrace the changing needs of women in business. Their network of support is growing and has already had such a positive impact on many people with whom they have crossed paths. 
Growth Award: Deborah Richards – Maddisons Residential
From those early days as a sole trader, Deborah now has a team of nine staff embracing the Maddison's brand. Having gone from kitchen table to a flagship office in The Pantiles in Tunbridge Wells, Deborah is dedicated to the sustainable growth of the company, and with each expansion they undertake there are the resources in the well-oiled cog in the background to support it. 
Women in Retail: Lavinia Asquith – The Curvy Boutique
Lavinia has created a welcome, secure and creative space for ladies to discover the kind of clothes they really feel comfortable in… many of whom are not catered for in the minimal sizing in high street outlets. Her ability to make people feel at ease enhances the experience they have in the boutique, and her attention to the customer experience is exceptional. 
Entrepreneur of the Year: Jess Gibson – the TN Card
Entrepreneurship has been redefined in many ways over the last few years. Recognising an opportunity, exploring it and creating something from it is just one of the skills required to be a success. Jess has shown that her determination to succeed and her ability to be flexible in the face of business challenges makes her a very deserving winner of this award. 
Business Woman of the Year – 5: Nicola Maynard – Lordswood Dance Centre and Tea for TuTu
Nicola was inspired by redundancy to work for herself, which she has done with determination, skills and passion. Like many businesses, hers went through multiple closures during lockdown, but she still managed to retain a high level of engagement within the dance school. She continues to grow the company, which she has transformed in the last few years.
Business Woman of the Year +5: Siobhan Stirling – Sharp Minds Communications
Siobhan is testament to what it takes to build not only a successful business but also an environment for her staff to grow and develop, knowing they are fully supported. She is a very determined and talented business owner.
Picture: © Schumann Photography