He's been a comic, an actor, a presenter and a singer. Now Bradley Walsh is stepping into some very famous Kentish shoes…
The early 1990s ITV drama The Darling Buds of May was quintessentially Kentish.
Penned by HE Bates, who lived near Ashford, and filmed in nearby Pluckley, it had millions of viewers tuning in to watch David Jason's 'perfick' portrayal of Pop Larkin. Not to mention the chance to see Catherine Zeta-Jones become the show's break-out star.
The warm sun always seemed to shine, while the oast house backdrop provided cosy Sunday-night viewing.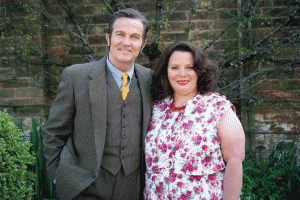 But it has been 30 years since it debuted and – like so many successful hits from the past – it has been decided to revive it. Filming for ITV's 2021 version – 'The Larkins' – got under way earlier this summer – with film crews transforming parts of Faversham, Margate and Broadstairs for location shooting.
And in this reincarnation of Bates' classic books, Pop Larkin is now portrayed by a man familiar to millions thanks to him having one of the entertainment world's most diverse CVs.
Bradley Walsh is certainly a man of many talents. He is currently on BBC One in the first full series of Take Off with Bradley & Holly. He's been one of Doctor Who's companions, a regular on Coronation Street (as factory owner Danny Baldwin), a copper on ITV's Law & Order: UK, and host of a string of hugely successful quiz shows, which include Wheel of Fortune, the revived Blankety Blank and, perhaps most notably, ITV's current runaway hit, The Chase.
In addition, he's appeared on the big screen, too – remember Mike Bassett: England Manager? And he even found time to record two albums of jazz standards; both of which made the top 20. And that's without mentioning his regular festive appearances in some of the country's biggest pantomimes.
Now 61, Bradley is one of Britain's best-loved performers – but admits that despite the range of roles he has adopted over the last 25 years, he knows his weaknesses.
"The trick is doing stuff you can get away with," he explains. "You've got to be brutally honest with yourself. If you don't get it, you can't sell it. If you can't dance, you can't sell it, no matter how big a showman you are. Stick to what you know best."
Which is also his reason for turning down several approaches for him to appear in the Strictly Come Dancing line-up over the years.
"You never know what is coming around the corner," he says of his career. "There is only one thing you can be sure of – and that's more corners. What you have to do is deal with them on a day-to-day basis. You have to keep moving and constantly evolving. The people who run the BBC or ITV might be out of a job in a couple of years, and if the new person doesn't like what you do then you're out."
He's certainly proved adept at keeping in favour so far.
Born in Watford in 1960, he grew up in a council house and left school at 16. "At one point my mum was holding down three different jobs," he remembers of his upbringing. "It was a happy childhood, but we certainly didn't have a great deal of money."
 A teacher of his remembered the spark of talent emerging at an early age. "He was highly popular," they said, "but an extremely mischievous student whose comic genius was apparent even at the age of 15."
After leaving school, he became an apprentice in the town's Rolls-Royce helicopter engine factory. Remarkably, after turning out for the works football team and then local sides, Bradley was spotted by a talent scout for London club Brentford and signed. He played for the club for two seasons before an injury brought an end to his sporting aspirations.
Instead, he focused on the world of entertainment – becoming a bluecoat for holiday firm Pontins. After working as the warm-up man for such big names as Des O'Connor and Leo Sayer, by 1993 he had secured a spot on ITV's Tonight at the London Palladium and his high-profile career was under way.
After securing some roles fronting quiz shows, Bradley then decided he wanted to try acting. "It was absolutely deliberate," he reflects on the move. "The problem we have in our industry is people pigeonhole you."
The result was a string of roles which included the likes of short-lived soap opera Night & Day before he found himself a regular on ITV's hit soap Coronation Street, then the hard-hitting Law & Order.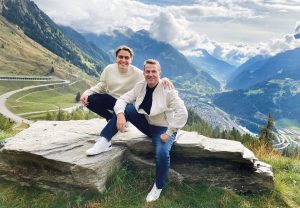 While juggling an evolving career, Bradley has also become a father-of-two. He has a daughter, born in 1982 from a previous relationship, and son Barney with his wife, dancer and choreographer Donna Derby. Barney appeared with him in the ITV show Bradley Walsh & Son: Breaking Dad, and will also be seen as a policeman in the opening episode of The Larkins.
After meeting in 1992, Bradley and Donna tied the knot in 1997 and they now live in Essex. "Donna keeps my feet on the ground – she grounds me," Bradley says. "I wouldn't swap her for the world. She isn't just beautiful, she's the most fantastic wife and mother. I try to bring love, stability and reliability. And a shoulder to cry on, or a shoulder to lean on."
Donna is no stranger to the limelight. She was one of the dancers in Robert Palmer's Simply Irresistible music video in 1988, and went on to appear in the Kenny Everett Television Show. She's also choreographed Miss World – a show, coincidentally, that son Barney presented in recent years.
But, for now at least, Bradley's focus is on a different family – and an iconic one.
While no broadcast date has yet been released for when The Larkins will finally hit our screens, the smart money is at some point in the new year. "I'm thrilled to be asked to be part of this much loved and iconic series of stories," he says over his casting in the show. "The warmth and affection that HE Bates has generated through his books is so uplifting and I cannot wait to be part of the Larkin family. It'll be a hoot!"
Few will expect anything less.