Davina McCall has battled drugs, a divorce, and grief – but is now embracing the positives of a remarkable life.
Davina McCall has come a long way in her TV career, which now stretches back close to 30 years. From hosting a string of the biggest TV shows to producing a host of exercise DVDs, she has become one of the best-known and best-loved presenters in the business.
But amid the many highs there have been lows in her life, too. Only last year she moved into a new home in Tunbridge Wells after finally moving out of the Wadhurst home in which she and her ex-husband, Pet Rescue presenter Matthew Robertson, had raised their three children. The divorce – the details of which she refuses to discuss – shocked many. The couple had separated in 2017.
This had come hot on the heels of her father's diagnosis with Alzheimer's, and was followed by the death of her beloved grandmother in 2018. And six years earlier, Davina had been holding the hand of her half-sister and confidante Caroline Baday as she died at the age of just 50, from lung cancer.
"You learn most from pain," the TV star reflects. "If you don't put yourself through feeling it, you will never grow. I deal with my grief in a particular way; I don't scream and cry. I've had so much loss in my life, I try to deal with everything as practically and logically as I can."
In her earliest days – as a TV presenter working for MTV – she had struggled against a dangerous drug addiction. Having started by smoking cannabis, she ended up with a heroin addiction in her early 20s. But it all came to a head when she woke up one day in hospital.
"It was very frightening as it was a very gradual overdose," she'd explain. "I'd had a cocktail of drugs because I didn't want to feel normal. I was constantly trying to escape myself –
I was like a piece of fruit rotting from the inside. The next thing I knew I woke up in hospital. At my lowest point, when I was filled with self-hatred, it was literally a case of 'get clean, or die'."
It was a key turning point in her life and career, and one which would put her on the path to clean living and enormous success.
The pain of her divorce has been softened by her new relationship with celebrity hairdresser Michael Douglas – someone she has been friends with for 20 years.
"Going through a divorce is a traumatic experience," she has said, "and it is something that needs to be navigated as carefully as possible. Several years on, we have both grown as people, and we can now co-parent happily and acknowledge that it was the right thing for us to go through, even though it involved absolute emotional turmoil."
And she's keen to ensure her children learn from her mistakes and don't repeat them. She explains: "I want to raise my children as independent people. I don't want to smother them. I understand they need to have their own experiences and learn by their own mistakes. But I talk to them about mine and my experiences… all the drugs I have taken, what effect they had. 
"I trust my kids, and because I've talked so openly about my experiences none of them has experimented with drugs."
From MTV Davina progressed to Channel 4 and Streetmate before a new series came calling wanting her to front it – Big Brother. The first series in 2000 was one of the most remarkable in TV history – capturing the attention of millions and sparking a formula which would run on the channel for 10 years before Davina's departure, when it switched to Channel 5.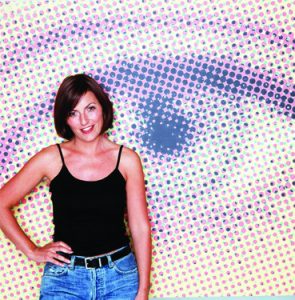 "I loved it so much," she says reflecting upon her time on the show. "It is one of those programmes that if you invest in it, it gives back. It is like a soap opera, if you watch it for a week it will give back to you in so many ways because you get totally engrossed in the plot and the cast – you know everything about it. 
"Also, I love live television. There is no point in filming something live if there is no danger of something going wrong, which it often did in Big Brother – it was so very exciting – that's what people were watching for."
The show and its success ensured Davina became a household name. It was also highly lucrative, with reports at the time suggesting the host was pocketing £85,000 per programme.
When dwindling audience figures saw Channel 4 pull the plug on Big Brother in 2010, Davina was heavily in demand. She had started presenting the channel's Million Pound Drop and went on to present their reality show The Jump, where celebrities trained for a ski jump.
A string of other jobs have since come her way – including being a judge on ITV's hugely popular The Masked Singer – a second series of which is planned for 2021. She is also a regular host on the Comic Relief TV telethons, and completed a gruelling challenge for Sport Relief in 2014.
Davina has been kept busy away from TV, too. Her exercise DVDs have proved a huge hit and, now at 53, she's launching her own range of lingerie. Although she admits that along the way the menopause did cause her some issues. "My night sweats became so bad. I just never slept through. I couldn't read the autocue. But from the minute I put the hormone replacement therapy patch on things got much better. I felt like I was back.
"People think that after the menopause you're finished with your dried-up ovaries. But I feel like it's really important to say that people in their 50s are having the time of their lives. Every age has a different set of hurdles to get over, but I've calmed down a bit and I'm feeling a lot more at peace with myself. 
"Once you stop trying to be perfect, it's such a relief. Most underwear models are in their 20s or 30s because women suddenly become invisible after 40. But why should we be? Who has decided you should no longer feel desirable? I own my sexuality and it's about time a range of pretty, sexy underwear was made for older women."
And she knows keeping fit is important. She adds: "Obviously, I exercise and watch what I eat, but it's partially genetic. My stomach hardly ever gets fat, but my bum and thighs turn to jelly if I don't work out. Even after I had a baby, I quite quickly lost my tummy.
"Stress eating is huge – I did a lot during lockdown, and I think that's half the battle. We give ourselves such a hard time, our internal voice is so aggressive and we need to start being kinder to ourselves."
It's a message Davina has embraced and one we should, perhaps, all heed.