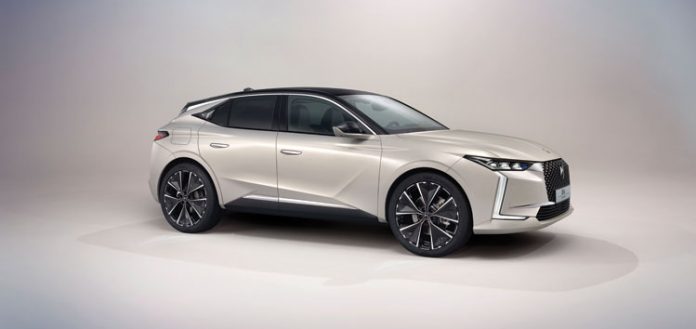 The all-new DS 4 is available in three distinctive derivatives, to suit a variety of customer preferences.
DS Automobiles introduces the all-new DS 4, the new premium C-segment vehicle that will support the company's continued growth across the globe. Built on the new, multi-energy EMP2 platform with a unique and world-renowned expertise in the field of electrification, the all-new DS 4 is available with petrol, diesel and a Plug-in Hybrid Electric Vehicle (PHEV) powertrain, with the DS 4 E-TENSE capable of up to 30 miles of all-electric driving from a single charge.
The new DS 4 introduces a range of advanced technologies new to the C-segment, with features borrowed from the groundbreaking DS Aero Sport Lounge concept model. 
Through DS Smart Touch, drivers can access essential functions on the centre console via simple hand gestures, without the need to touch the infotainment screen. DS Extended Head-Up Display is a new feature that appears to project key information directly on to the road in front of the driver to reduce the potential for distraction and improve safety. 
"DS 4 was conceived to redefine the outline of the Premium C segment. It's aimed at customers attracted by two body shapes: The new aspirational Coupé-SUV and the traditional compact hatchback. 
"At every stage of its design, the idea of appealing to these two segments drove our decisions," said Marion David, Product Director, DS Automobiles.
With a benchmark width of 1.83 metres and large 720-millimetre wheels (alloys up to 20 inches), a compact length of 4.40 metres and a roof height of 1.47 metres, the dimensions appear impressive with a memorably imposing presence.
"Even before drawing the first pencil line, we worked for two years with our engineers shaping the technical platform. When we began the creative process, the room for manoeuvre we had in devising a new concept was incredible. 
"Inspired by the DS Aero Sport Lounge concept, the silhouette is unique in the segment with proportions that have never been seen before. The outline is athletic, very muscular and compact, and sits on very large wheels. It's turned out to be aerodynamic, efficient and charismatic all at once," said Thierry Metroz, Design Director, DS Automobiles.
DS 4 has a digital interior, seamless and ergonomic with each part integrated intuitively as much for function as form. 
This fluidity is driven by innovations that aim to create complete calm within DS 4. 
The art of travel is demonstrated with a new control layout, grouped in three zones of interface to simplify the experience. 
Through its materials, with different types of leather, Alcantara®, forged carbon, wood and new upholstery techniques, the interior of DS 4 blends refinement with technology.
In a two-tone interior, the seats in Pebble Grey grain leather are joined by clear elements, smooth to the touch for comfort zones, supported by grain leather and 'Clous de Paris' embossing. On the upper part, where the interactive zone is, the trim is adorned with Brown Ash wood and very high-quality Criollo Brown Nappa leather.
Based on a significant evolution of the EMP2 platform with 70% new or exclusive parts, DS 4 is offering plug-in hybrid technology from its launch. A new generation infotainment system, driver assistance systems yet to be seen in the Premium C segment and an innovative information projection system make the DS 4 stand out. 
Double Formula E champions in 2019 and 2020, DS Automobiles is at the cutting edge of electrification. The new version of the EMP2 platform was conceived to accommodate a new generation plug-in hybrid drivetrain without compromising usability and boot space. 
A turbocharged 180 horsepower 4-cylinder engine is paired with a 110 horsepower electric motor and an e-EAT8 gearbox for a combined 225 horsepower. It's powered by a more efficient battery with new, more compact and larger capacity cells located behind the deformable beam, and giving a range of more than 30 miles in zero emissions mode (WLTP combined cycle).
The PureTech 130, 180 and 225 horsepower petrol versions and a 130 horsepower Diesel BlueHDi version will also be offered. 
All these models will only get the 8-speed automatic gearbox. DS 4 also has a wide range of particularly efficient multi-energy versions.