Kate Garraway's inspirational battle to help her Covid-stricken husband, Derek, has captured the hearts and minds of the nation as she prepares for a 'difficult' Christmas.
Before Covid hit, Kate Garraway and Derek Draper were the perfect couple.And she was one of the best-known faces on television – fronting the likes of Good Morning Britain – and a regular on the pages of newspapers and magazines. Her 'girl next door' image endeared her to millions.
The 54 year old appeared on Strictly Come Dancing and headed to the jungle for I'm A Celebrity. Today, she even presents a radio show for Smooth.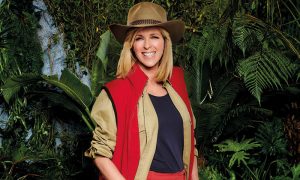 Kate has embraced the celebrity life without, it seems, succumbing to it. This is perhaps underlined by the fact that while dancing on Strictly with Anton Du Beke, they more often than not finished bottom of the judges' scoring – only for the public vote to save them.
It has been a remarkable rise for the star, who had been well known to viewers in Kent before she hit the big time, having presented the ITV Meridian news before using it as a springboard to Sky and then ITV.
Her meteoric rise seemed to show no sign of slowing.
Derek had spent a life mostly in and around politics – working for prominent Labour Party figures such as Peter Mandelson (one of the architects of New Labour) and then as a lobbyist. More recently, he had trained as a psychotherapist.
Together, the couple had two children and a nice home in north London, and plenty of famous friends.
But as the pandemic took hold, everything changed…
Derek, 53, contracted Covid-19 in March 2020. As his condition worsened he was treated in intensive care and placed into a coma.
He remained in a perilous position in hospital for more than a year. This April, he was finally able to return home.
However, he is far from as once he was. Suffering the devastating effects of an unusually debilitating form of long Covid, he remains bedridden and in a condition requiring round-the-clock care.
The strength of spirit and devotion Kate has demonstrated, however, has melted the sternest of hearts and acted as an inspiration for many.
Explained Kate: "There isn't a clear cause, other than Derek caught Covid. There are three diagnoses of how it impacted him, none of which anyone is confident in.
"And because of the impact, no one really knows what the future holds, so I have to keep on fighting for Derek. I want to and I have to.
"I used to think fatigue was just being exhausted by getting up early in the morning.But Derek is an extreme case because he has multi organ challenges. He sleeps around 20 hours a day.
"The fight with the virus has been won, but it's wreaked extraordinary damage to his body and we don't know if he can recover from that. It's affected him from the top of his head to the tip of his toes."
The situation has required a major rethink of their home set-up – with Derek sleeping downstairs and carers employed to help look after him while Kate supports the family through her work.
Her husband's illness captured the attention of a nation reeling under the impact of the pandemic – a very real reminder of its devastating potential.
The couple could be related to, and their struggles pulled at many a heartstring, with Kate frequently providing updates on Derek's condition to an audience praying for his recovery.
Yet her career has been undimmed by the trauma of his illness.
It was recently announced that she is taking over from Piers Morgan on Life Stories – the two are friends – but only after she appeared in the hot seat as the subject of the controversial presenter's final show.
Her career started in local news in the 1980s. While presenting in Kent she met her first husband, Ian Rumsey, who worked on the ITV local news show. The pair wed in 1998 but divorced just four years later.
Kate retains a fondness for the county she once called home – admitting to supporting Kent's only league club, Gillingham.
By 2005 she had married Derek and discovered a new form of happiness, and moved to Camden in London.
The following year they welcomed daughter Darcey, now 15, to the family and, three years later, son Billy.
The star presenter recently appeared in the BBC's Walking with Kate Garraway, where she revealed she had invested in the power of prayer to help her husband as viewers watched her walk through the Cotswold Hills.
"I think this is probably the first time, certainly since Derek contracted Covid, that I've had a whole day to myself with no purpose other than taking in the sights and sounds, just the joy of the countryside," she said on the show.
She added: "I've had moments of great loneliness and fear. It's hard because the person I wanted to give me a hug is the person that can't – and that's Derek.
"There's something about coming here and reminding yourself that you can feel the countryside wrapping its arms around you and giving you love back."
Unsurprisingly, this Christmas will be a challenging one for the whole family.
But they have at least taken one giant step forward. Kate explains: "This year, we have got him home – and fingers crossed we can keep him home. Of course, he's not going to be putting on his Santa costume, going out with Darcey for a father-and-daughter Christmas shop or the same with Billy.
"None of those things are on the horizon at the moment, so it's adjusting to a new normal, but also grateful he's here at home at all, which we didn't have last year and feared would never happen."