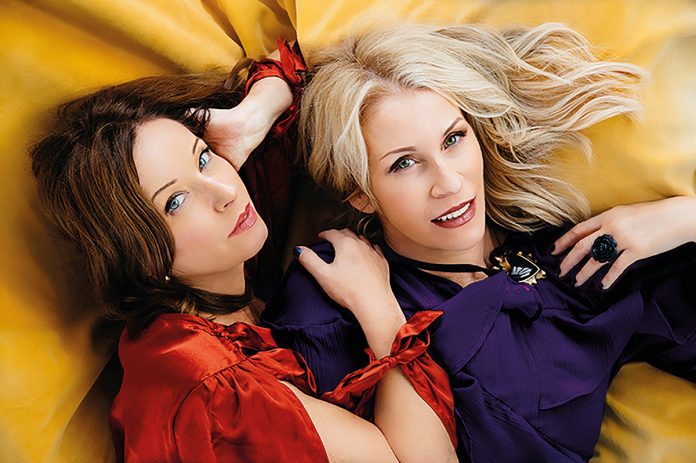 For more than 40 years Bananarama have been one of the UK's biggest girl groups – and now they're coming to Kent!
In the years before the Spice Girls emerged with their Girl Power slogan, Bananarama were the undisputed queens of UK pop.
Feisty, opinionated and with a slew of big hit singles both in the UK and across Europe and Australia, they were the former holders of the title of the nation's most successful girl group.
And despite some line-up changes on the way, two-thirds of the group have remained the same. Now, next month, they will be coming to perform in Maidstone.
Joining the line-up for the Let's Rock Kent retro festival at Mote Park, original band members Sara Dallin and Keren Woodward will be belting through some of their celebrated back catalogue.
It is a remarkable testimony to their longevity that since they first appeared in the early 1980s they have remained a constant in our lives. While they may have ruled the airwaves during most of the 80s, their changing styles allowed them to capture new fans for years later.
In an era of streaming winning out over single sales, they may not be hitting the Top 10 any more, but their pulling power remains considerable.
When Siobhan Fahey, the original group member who split from the band in 1988 (she went on to form the highly successful Shakespears Sister with US singer Marcella Detroit) returned for a reunion tour in 2017, the trio played to sell-out shows across the country.
Their success was hard-earned – their origins gritty and far from the manufactured groups which would come after them.
"We went to the clubs, we were friends, and then we put the group together and started writing songs," explains Sara, "and yes, it was not in any way manufactured."
Emerging from the post-punk scene of the late 1970s, they were friends with members of the Sex Pistols – eventually moving to London where they lived above the band's studio as they sought to get their big break.
"Keren and I just took the mattresses from the YWCA where we were living before that," says Sara, "we just dragged the mattresses down there and flung them on the floor and that was it. I think we were there for six months."
Their big break came in 1982 when new wave group Fun Boy Three – fronted by Terry Hall – invited the group to perform on their single It Ain't What You Do (It's the Way That You Do It). Given equal billing, the single flew into the Top Five.
They followed that up with their own single – this time billed as Bananarama featuring Fun Boy Three. Really Saying Something followed it into the Top 10 and the group were on their way.
In keeping with the socially-conscious pop of the time, the group's lyrics originally tackled weighty topics; yet they struggled to be taken seriously.
Explains Sara: "If you're slightly intelligent and you want to put something more into your music rather than just 'I love you, you love me', then it was quite hard.
"I think the perception of us was that we were three pretty, gruff little teenage girls. Why do they want to sing about war and starvation?"
Their run of Top 10 hits was impressive. From Cruel Summer to Robert De Niro's Waiting, the band were one of the biggest in the land.
They were one of only two female acts to perform on the iconic original Do They Know It's Christmas? single by Band Aid.
As the decade progressed, they teamed up with production trio Stock Aitken Waterman – a move which would spawn their biggest successes yet.
Venus, Love in the First Degree and I Heard A Rumour were all huge, and a memorable dance routine on the Brits (the band was surrounded by scantily-clad muscle-men in a neat reversal of pop's normal formula) saw them capture all the headlines.
But the show would be the last for Siobhan Fahey who, by then, had married Dave Stewart from the Eurythmics.
Explains Keren: "As time went on, we saw less and less of Siobhan. It felt like she'd lost interest in the band and the album, and the tensions between us were palpable.
"As Siobhan herself has often said about that time: 'The rot had set in'. It's difficult to know if Dave's influence was a part of her decision to leave the band, but I think it's fair to say he was no big fan of Stock, Aitken and Waterman. Siobhan was looking for a way out, and Dave was offering the means of flight."
Splintered for the first time since their teenage years, they drafted in vocalist Jacquie O'Sullivan – and the hits kept coming – among them a memorable charity single for Comic Relief which saw them team up with Jennifer Saunders and Dawn French as Lananeeneenoonoo, recording a version of the Beatles' hit Help!
But, looking back now, they were aware of the way they were perceived in the industry and its male dominance.
Explains Sara: "We were viewed as three little girls jumping around dancing and singing. Our career wasn't necessarily taken seriously. And when I look back, I think we had great pop songs and all of them were hits. Why were we not afforded the respect that we should have been?
"We never won anything at the Brits. There were so few females around, we were almost sidelined and disregarded.
"I don't think we realised at first how the music industry would pigeonhole us. We had no knowledge of the press and how a male-dominated industry would treat us. I just grew up thinking that I could do anything I want; I was writing my own songs, it was all great."
Adds Keren of the '#MeToo' movement which has now swept the globe: "In hindsight, we made a stand in our own way by just getting on with it, but almost to the point where you ignore it and don't bring it to other people's attention.
"It's fantastic that it has been now, so other girls won't stand for that sort of thing. It's a shame it didn't happen sooner but I'm glad it has.
"Apart from our huge gay following we've always had loads of female fans. Even when we were much younger, girls loved it because there were so few women around for them to look up to. I think that's why we were important to them."
Outside of the band, Keren started dating Wham! star Andrew Ridgeley in 1990 – the pair would remain together for more than 25 years.
After Jacquie O'Sullivan left the group in 1991, the band continued to tour as a duo as well as recording. And after performing at a host of the popular 1980s retro festivals, the two girls approached Siobhan in 2017 about a reunion, and she agreed. But it would be a new experience for her.
Explains Sara: "Siobhan was with us for six years but she never experienced touring while in the band. We toured after she left, but we didn't perform with a live band with her at all. It wasn't the done thing back then.
"Then we went on a world tour with Jacquie. We didn't do it the first time around because it was more the age of video.
"We play a lot of live shows and people always go crazy, there's always an audience there. But this was going to be special because people had never seen the three of us together and probably won't again, so it really was an amazing one-off experience."
Siobhan admits she has 'doubts' she'll ever return to the band again.
But for now Bananarama continues as a duo – with the Mote Park show set to remind us all they are a band to take seriously.
They perform at the Let's Rock Kent retro festival on Saturday 3 September. Also on the bill are Sister Sledge, ABC, Roland Gift, Wet Wet Wet, Brother Beyond, Chesney Hawkes, T'Pau, Howard Jones, Heaven 17 and more.
For information and tickets, visit: letsrockkent.com
Pic: © Nell Campbell