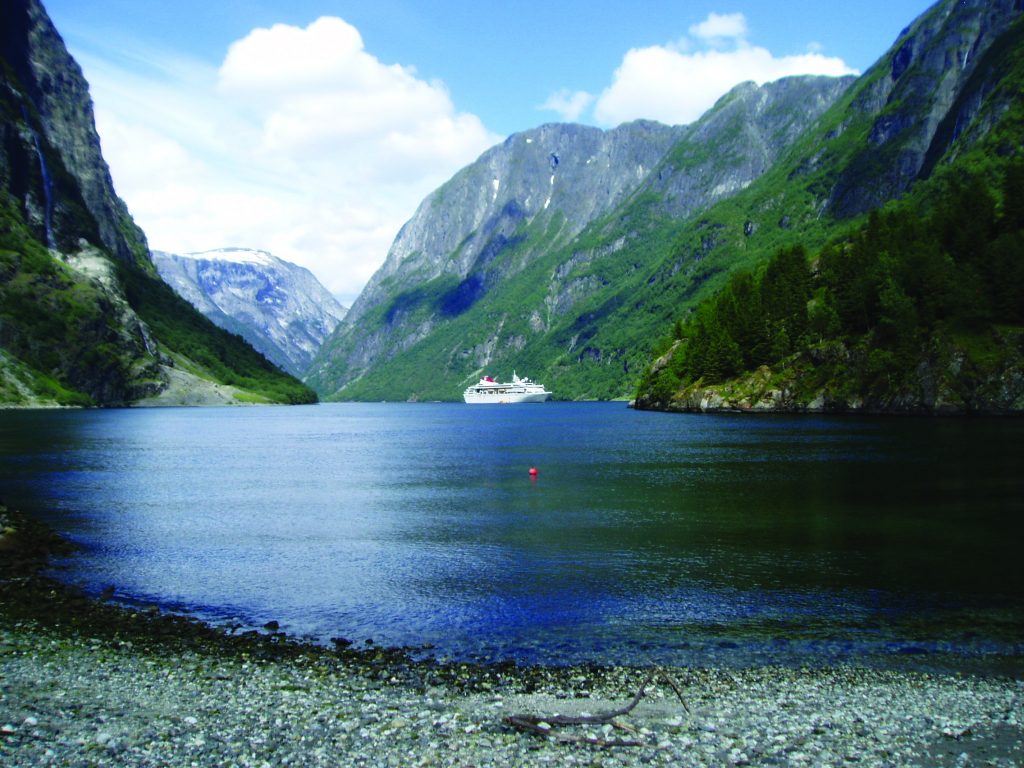 Cruising is the ultimate way to appreciate the incredible scenery
of this spectacular region. Fred. Olsen's smaller ships and long
Norwegian heritage create a more authentic experience as you sail
deep into the intricately carved landscapes. Entering the heart of the fjordland as it
weaves through the picturesque countryside, diverting down waterways perfectly sized for our smaller ships to explore, a fairytale picture book of dominating mountains, thundering waterfalls, gleaming glaciers, rolling green hills and rich orchards presents itself as you relax comfortably on deck. You don't have to move, we bring it all to you. When you're ashore, the list of 'must-do' experiences is almost endless: enjoy a spot of fishing or go kayaking across the glassy waters; venture further into the mountainous landscapes on foot, by bike or even on a unique railway journey; stroll around Hanseatic cities and quaint villages; and much more.
FLÅM, AURLANDSFJORD,
NORWAY
Flåm is a delightful, unspoilt treasure, with quaint orchards, cottages and farmland
surrounding the spellbinding waterfront. The views are nothing short of magical, whether you're standing at the Stegastein Lookout or admiring the mighty waterfalls, Tvinde and Kjosfossen. And don't miss the magnificent Flåm Railway, a 20km-long spiralling sensation with an abundance of photo opportunities along the way.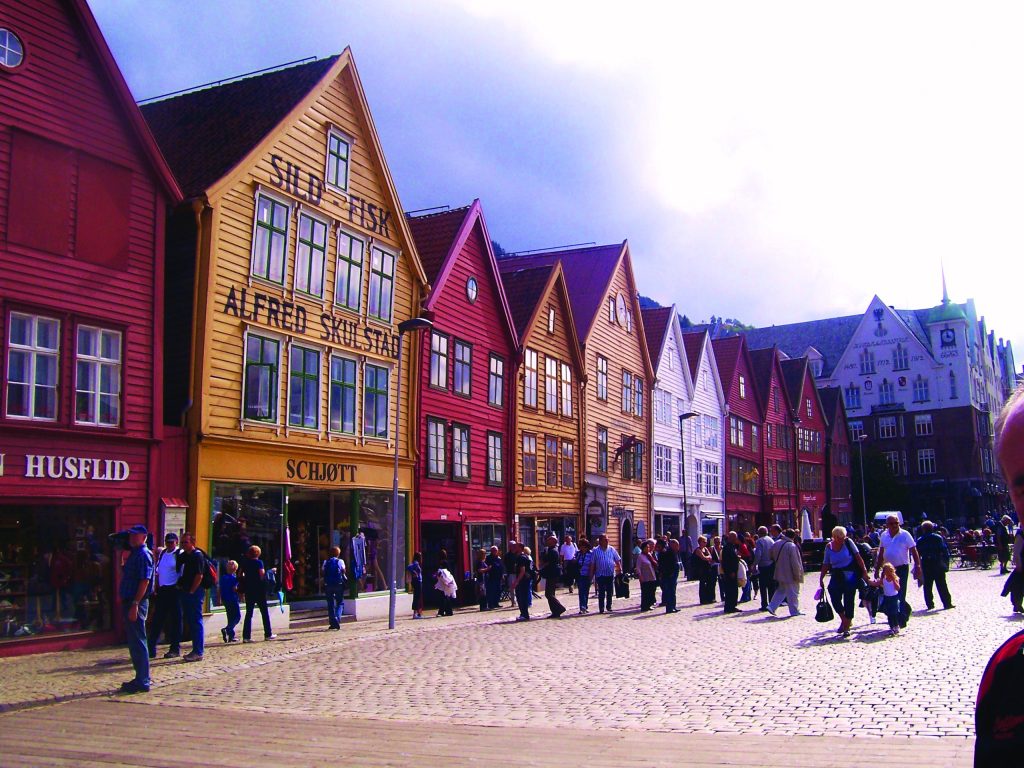 BERGEN, NORWAY
The beautiful UNESCO-listed Bryggen Wharf, with its colourful timbered houses
and cobbled walkways, is the historic and cultural centrepiece of Hanseatic Bergen,
though the famous fish market, Troldhaugen Museum and fascinating art galleries are
worth exploring too. Head to the top of Mount Fløyen via the funicular railway for
an unrivalled perspective of the city.
CRUISING FEDAFJORD
AND LISTAFJORD
The 10km-long Listafjord flows through Vest-Agder County at the southern tip of Norway, meandering between rugged surroundings and hills, before
eventually splitting into two. Fedafjord is the southern of the two branches, an aesthetic delight with beautiful beaches dotted along the way.
CRUISING STOLSFJORD
Cruise the southern Stolsfjord and lose yourself in peaceful contemplation as the rolling green landscapes, craggy islands and deep blue waters surround you.
Cruising Hidrasund & Strandsfjord, sail along Strandsfjord and the Hidrasund, a passage between the island of Hidra and the mainland that is less than 300 metres wide at its narrowest point. This is cruising at its best: fantastic views enjoyed from the comfort of your ship.
CRUISING NÆRØYFJORD
TO GUDVANGEN
The Nærøyfjord has been rated joint top in National Geographic's list of natural heritage sites worldwide: evidence enough that you're in for something special.
At just 250 metres wide at its narrowest point, it's only accessible to smaller ships like Fred. Olsen's. The passage through is one of the most dramatic in Europe;
each twist and turn gives the impression of heading towards a dead end, which opens up as you turn each corner. Majestic fjordland is wonderfully revealed within
this medley of destinations. From the quaint villages of Flåm and Olden you'll discover dramatic valleys, glaciers and waterfalls, while enchanting scenic cruising unveils the towering cliff of Hornelen and the striking Nærøyfjord – only accessible to smaller ships like Boudicca. A visit to the gloriously remote Orkney Isles concludes this superb holiday.
CRUISING NORDFJORD
AND BY HORNELEN
Deeply tranquil, the Nordfjord is utterly enchanting and is flanked by stunning scenery in every direction. Cruising along this magnificent waterway, you'll pass Hornelen, Europe's highest sea cliff.
OLDEN, NORDFJORD, NORWAY
Both charming and incredibly beautiful, the village of Olden is a springboard for discovery. It's the gateway to the astonishing Jostedalen Glacier and its famous branch, Briksdal, as well as the stunning Lovatnet Lake and Olden Church, built in 1759. All this means you'll never be far from a fantastic photo opportunity.
CRUISING LYSEFJORD
(Pulpit Rock & Kjerag Boulder) As you make the unforgettable journey along the Lysefjord, only accessible to smaller ships like those in the Fred. Olsen fleet, you'll
be running out of superlatives to describe the incredible scenery that presents itself before you. Look out for the unmistakable Pulpit Rock, a flat-topped cliff with a
604-metre plummet into the fjord below – that's twice as high as the Shard in London – and the fascinating Kjerag Boulder. Intriguingly wedged in a mountain crevice, this rock has become a popular spot for brave (or foolhardy) tourists to have their photo taken.
STAVANGER, NORWAY
A former European Capital of Culture, Stavanger proudly flaunts its rich history. Wander round the Old Town, Gamle Stavanger, taking in the impressive Cathedral; visit the Three Swords monument; explore the Maritime Museum; discover the tropical Flor and Fjære gardens on Sør-Hidle Island; and be sure to immerse
yourself in the annual Norway National Day celebrations – an event this call has been specially timed to witness.
CRUISING HARDANGERFJORD
Sail along the breathtaking Hardangerfjord. Known as 'Queen of the Fjords', it was voted by Norwegians as a top 10 fjord experience. There's inspirational scenery wherever you look, from towering mountains to shimmering waterfalls, and magical glaciers to idyllic orchards.
CRUISING SOGNEFJORD
At an impressive 127 nautical miles long, the Sognefjord is the longest fjord in Norway and the third longest in the world. With a steep and rocky appearance,
in places it can feel almost eerie. Cruising by Fureberg Waterfall, Maurangerfjord. Experience unforgettable views as you cruise along the Maurangerfjord, past the
imposing Fureberg Waterfall – be sure to keep your camera to hand.
Save
Save
Save
Save