Open gardens are celebrating the first signs of spring while raising funds for nursing and caring charities.
The appearance of the humble snowdrop flower not only lights up the dark days of winter but heralds that spring is on its way, bringing us the promise of brighter, warmer days ahead. 
Here in Kent we have a wonderful and varied collection of snowdrop gardens that open for the National Garden Scheme (NGS), pleasing galanthophiles (snowdrop collectors) and garden visitors alike. 
Enjoying the appearance of these magical and delicate flowers is a great excuse to get out into the fresh air at this time of year while helping to raise funds for nursing and caring charities.
Some Kent gardens offer the chance to see meticulously grown rare varieties up close, such as at Spring Platt at Sutton Valence, which opens several times in January, as well as in February, when most other gardens will be open, too. It has more than 700 varieties of snowdrops grown in tiered display beds as well as in spring borders. 
Others grow them scattered throughout their gardens, alongside emerging spring flowers. In larger gardens you can enjoy naturalised swathes, such as at Doddington Place, near Faversham, where carpets of snowdrops spread out beneath towering Wellingtonias.  
The common snowdrop, Galanthus nivalis, is a cheering site to behold when growing en masse on a woodland floor, as can be seen at the wonderfully situated Knowle Hill Farm at Ulcombe on the edge of the North Downs. It has enviable views to the south, all the way to the coastal wind farm at Dungeness 25 miles away. 
This beautiful garden has been created from scratch by Elizabeth and Andrew Cairns over 35 years and boasts a further 100 varieties of snowdrops planted around the garden. 
Topiary has been grown and shaped by Elizabeth, the fabulous designs giving the two-acre garden a wonderful winter structure. There are many hellebores to enjoy here, too, including a rare green-flowered variety. 
Elizabeth hopes that the beautifully scented flowers of a large Daphne bholua 'Jacqueline Postill' will be open in time for visitors as well. Hot drinks, sausage rolls and cakes will be on offer for cold weather sustenance!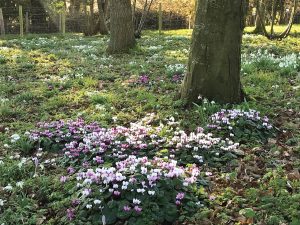 Snowdrop facts
The snowdrop was probably introduced here from Europe by the late 16th century. Its botanical Latin name, Galanthus, means 'milk flower'.
A typical flower has six petal-like segments known as tepals. The three larger, outer petals surround a short skirt of three inner petals, each having a green inverted V marking above end notches. There are double varieties, too. However, there can be minute variations between flowers, fascinating enthusiasts since the late 19th century.
Today there are over 3,000 named forms, and collectors – known as galanthophiles – can pay hundreds of pounds for just one bulb. The differences they look out for are size of flower, petal shape, and the number of petals, as well as differences in the green, or sometimes yellow, markings on inner as well as outer petals. 
There is even a new emerging flower group known as 'colour change', with green markings that change to yellow.
Tips for budding galanthophiles
Always plant snowdrops 'in the green', i.e. while in flower or just after. A great one to start with is the common snowdrop, Galanthus nivalis, as it multiplies quickly. It has a double form, too, G. nivalis 'Flore Pleno'. Divide clumps after three years and spread them to new areas.
Snowdrops enjoy partial shade, so work well planted close to deciduous trees.
If you want to enlarge your collection, there are several specialist snowdrop bulb nurseries as well as fairs across the country.
Snowdrop specialist Elizabeth Cairns of Knowle Hill Farm suggests not to get too carried away, though, as some of the most expensive bulbs might not flower again!
She also keeps a detailed map of where she has planted snowdrops, as well as making sure there are several labels around each variety pushed well into the ground beside the bulbs.
There are about 20 species of snowdrops and the three most common are G. nivalis (nivalis meaning snow), G. elwesii and G. plicatus. Many hybrid snowdrops have arisen from these three species. 
With a mix of different snowdrops, seedlings from cross pollination can result in all manner of markings and flower forms.
• Snowdrop Festival garden openings can be found at: ngs.org.uk