The rain failed to dampen the spirits as the annual fundraiser toured through the county.
A sensational supercar rally through Kent was enjoyed by all on 23 April despite the intermittent bursts of rain as The Kent Area of the Ferrari Owners' Club of GB held a Drive-It Day in aid of the charity Childline.
The annual event, organised by Peter Critchell, saw members revving up their stunning cars – which were all adorned with a plaque promoting Childline – and forming a rip-roaring Ferrari procession to tour through local towns and the countryside while raising much-needed money for the charity, finishing their journey at the Chilston Park Hotel in Lenham.
The plaques displayed on each car helped to raise the profile of Childline and each plaque was purchased by the owners with the funds also going to the this good cause.
The Kent Area of the Ferrari Owners' Club of GB knows how to combine passion and purpose, as demonstrated by their driving day in aid of Childline. The event provided members with a great opportunity to showcase their stunning Ferraris and have a lot of fun while promoting a worthy cause.
The afternoon included a chance for the attendees to look at more than 20 Ferraris on show as well as enjoy a tasty barbecue and an archery competition. Plus they were able to admire the stunning sculpture created by Kent artist Guy Portelli in 2017 to celebrate 70 years of Ferrari.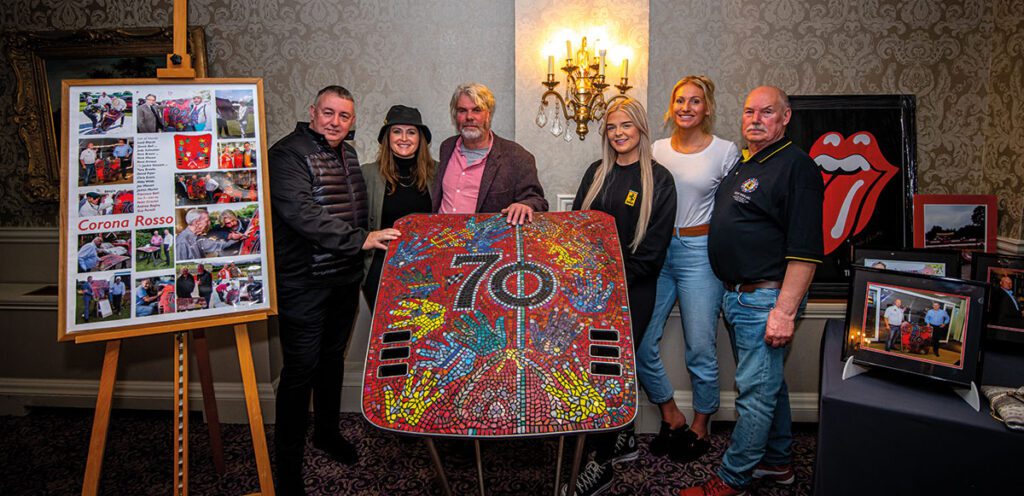 Guy Portelli was also there to speak about the sculpture, which features handprints of famous F1 drivers and well known motorsport people, including the Duke of Richmond (then the Earl of March), Jackie Stewart, Tony Brooks, David Piper, Derek Bell and Ross Brawn. They had all placed their hands on the bonnet of a Ferrari Dino 206 GT, which were then drawn around before Guy mosaicked the bonnet.
The sculpture was auctioned off during that year's BBC Children in Need to raise thousands of pounds for yet more charities.
Motoring memorabilia was also for sale at this year's Kent Ferrari Drive-It Day event and a raffle was held to raise further funds for Childline.
At the same time, other Ferrari Owners' Clubs across the country also held their own versions of the Drive-It Day.
Organiser of The Kent Area of the Ferrari Owners' Club of GB event, Peter Critchell said: "Being part of the Ferrari club is not just about owning a beautiful and iconic car, it's about becoming part of a passionate community that shares a love for the artistry and engineering of Ferrari.
"It's an opportunity to connect with like-minded individuals, forge lifelong friendships, and create unforgettable memories on the road and at exclusive events in Kent and beyond."