He's one half of one of TV's biggest power couples, but Vernon Kay owes his success to a chance encounter at a fashion show just over 22 years ago…
In December 1998, a 24 year old from a DIY store made a decision which would change his life forever – and catapult him from his home town, Bolton, into the upper echelons of the entertainment world.
Vernon Kay hadn't been planning to attend the BBC's Clothes Show Live event in Birmingham, but was persuaded to by workmates. They promised to buy him beers for the rest of the day if he had a go on the catwalk.
Fast forward 24 hours from that fateful day and his dare had delivered real rewards. Spotted and signed by the Select Model London agency, the 6ft 4in soon-to-be-star was booked in for a trip to the capital.
Now 47, the man who became famous for fronting TV shows and being the husband of Strictly Come Dancing's Tess Daly, explained: "The following Friday I moved down to London for good… and it all snowballed from there!"
Having graduated from university, Vernon admitted to being at something of a loose end, taking a string of jobs which included being a cleaner at local schools.
"My big break was the modelling," he says, "I rang my Mum up from a service station on the way home after I got scouted, and told her. She said: 'What? You? You're ugly!' My Dad went: 'You look like a girl!'"
Where fate's fickle hand would ultimately put him, neither he nor his parents can scarcely have imagined.
Earlier this year Vernon was at Maidstone Studios by Vinters Park, recording his latest game show: Game of Talents. Shown on ITV, and still available on demand, it is just the latest in a string of mainstream shows which have made him one of the UK's most in-demand frontmen.
His CV already includes the likes of Family Fortunes, Let's Get Gold, Beat the Star and Splash!
"Game shows are quite rhythmic," he comments. "You know the tension moments, the fun moments, the reveals, and once you know that it's all pretty straightforward. I've done loads of game shows so it was like riding a bike for Game of Talents.
"We worked really hard on this one so that when we got into the studio we weren't going through format points. We made sure that everything was nailed in the rehearsal room before we got into the studio, so from the moment we recorded the first show it was a breeze."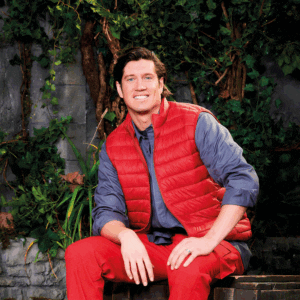 It was the lanky host's first show since his stint on I'm A Celebrity… Get Me Out of Here! in the autumn – a series shot not in the Australian jungle, as previous series had been, but in a castle in North Wales due to covid travel restrictions. Starring alongside such fellow celebs as Shane Richie, Mo Farah and Russell Watson, he finished the series in third place, having reached the final. Giovanna Fletcher was crowned Queen of the Castle, while Jordan North was runner-up.
"I really enjoyed the whole experience – it was amazing," said Vernon. "If anyone is asked to do it I'd just say sign up and go and enjoy it.
"When you're in there, you are emotionally drained because you are missing your family.
I didn't think about trying to stop myself from getting emotional.
"You are physically exhausted, too. We were eating nothing but rice and beans most of the time. I lost two and a half stone – weight I didn't really have to lose."
The reality show had marked his return to the mainstream after two years of fronting a sports show. Vernon was the presenter of Channel 5's coverage of Formula E – a single-seater racing series which competes on city streets around the world. All the cars involved were powered by electricity.
"It is the birth of electric motor racing and it is only going to get better," he explains. "The quality of racing in Formula 1 is good, but the quality of racing in Formula E is better in my opinion. We have up to a dozen cars divided only by hundredths of a second. It's intense."
Back to that first break in modelling, Vernon got his first taste of being in front of the TV cameras when an ITV documentary followed the fortunes of those at the model agency he'd signed for.
"I always said when I was doing interviews for the documentary that I'd love to be a game show host. I always said I'd love to host Top of the Pops and Family Fortunes. It took me seven years from that docusoap to hosting Family Fortunes!"
He ticked off that Top of the Pops dream, too, by the year 2000, when he presented a special on BBC Two. "They are both iconic TV shows," he reflects. "So to have hosted both was an incredible achievement."
His first big TV gig was on Channel 4's entertainment show T4, where he made his name. And it was there, in 2001, that he met Tess Daly. "It was all quite immediate," recalls Strictly Come Dancing host Tess – who back then was a model five years Vernon's senior. "We instantly had such a blast together. I couldn't imagine having more fun with anyone else. It was pretty explosive."
The two were married just two years later, just as her presenting career started to take off. Vernon said at the time he was 'over the Moon' to have tied the knot.
The duo become one of TV's hottest couples, with plenty of material for the gossip columns to feed off. But while the pair have endured the highs and lows of marriage under the relentless spotlight of the tabloid press, they have emerged as a powerful couple.
They also have two children together – daughters born in 2004 and 2009. "I'm a feminist," Vernon quipped. "I have to be."
After T4, Vernon went on to host a string of shows – including a bid at establishing himself in the US, fronting ABC's Skating with the Stars and Million Dollar Mind Game.
But it is in the UK where he is still best known, and where it seems our appetite for his talents remains undimmed.