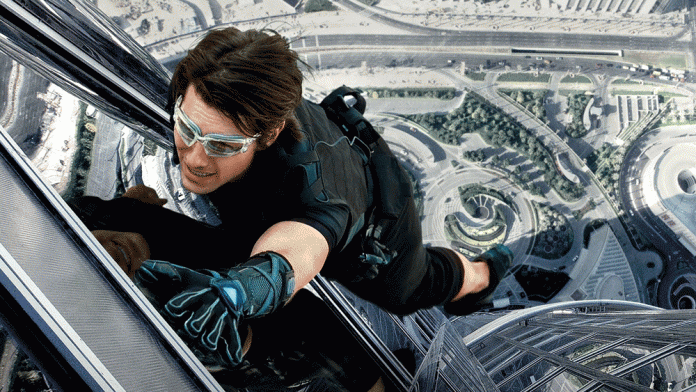 From Top Gun 2 to the Mission: Impossible being filmed in the UK, there's going to be no escaping the Tom Cruise revival. He's been a pilot, a secret agent, a bartender, a sports agent and even a Nazi – but always a superstar.
Tom Cruise, remarkably perhaps, turns 60 next summer – and this year marks the 40th anniversary of his first appearance in a film. Since then he has become instantly recognisable and, mostly, reliable box office gold. 
Little wonder that he now sits on an estimated personal fortune of a staggering £430million – making him one of the richest actors in the world.
Most recently, he has been living near Biggin Hill – once part of 'Old Kent' – as filming continues on the latest Mission: Impossible. The seventh instalment of the movie franchise, which sees Cruise reprise his role as agent Ethan Hunt, had been due to hit the big screens last year. But, as with so much in the entertainment industry, its creation has been delayed by the pandemic – pushing its release day into next year.
For Cruise, the project has become one close to his heart. Once more sat in the producer's chair for the flick, he made plenty of headlines after an outburst on the set when he saw someone breaching the tight Covid rules they had been forced to introduce.
"We are the gold standard," the star could be heard yelling in a leaked audio clip from the film set in London. 
"They're back there in Hollywood making movies right now because of us. Because they believe in us and what we're doing… We are creating thousands of jobs. I don't ever want to see it again! Ever! And if you don't do it, you're fired!"
As restrictions have relaxed so, too, it seems, has Tom. He was recently spotted in the crowd at Wembley watching England's Euro 2020 final against Italy – and again enjoying the tennis at Wimbledon.
And it may well seem it's impossible to escape him over the coming months. The latest Mission: Impossible will not be the only overdue blockbuster from the star filling cinemas in the near future. In November, the sequel to the 1986 hit which first catapulted him into the stratosphere will finally be released.
Top Gun 2: Maverick has certainly proved a long wait for fans. First mooted in 2010, it had originally been planned to premiere in 2019. But it was delayed for a year, only to find cinemas around the world forced to shut due to Covid. 
But getting to know the real Tom Cruise – not the show-off bartender in Cocktail or the money-motivated Jerry Maguire, or even as the cocky-then-gentle brother of an autistic Dustin Hoffman in the Academy Award-winning Rain Man – is more challenging.
It's not that he shies away from interviews, but, ultimately, he gives little away about himself. And when he has, it tends to capture the headlines for all the wrong reasons.
He once famously told an Australian interviewer in 2005 to: "Put your manners back in," after one too many questions probing him about his relationship with Nicole Kidman.
In the same year he left plenty of people amused and baffled in equal measure after appearing on Oprah Winfrey's show in the US and literally jumping up and down on the sofa, declaring his love for his then partner Katie Holmes.
Of course, the cynic may say taking two such diametrically opposed standpoints on your personal life during interviews may be a bit rich.
After all, at one stage Tom and Nicole – who wed in 1990 – were one of Hollywood's hottest couples. They'd share the red carpet and appear in a string of films together, such as Days of Thunder, Far and Away and the hugely controversial Eyes Wide Shut. 
It was not his first trip down the aisle – he wed actor Mimi Rogers in 1987 before they split in 1990. But the pairing with Nicole Kidman was a publicity masterstroke.
Tom and Nicole's decision to split in 2001 – having adopted two children – stunned the world. Since then, both have kept silent on their relationship.
After Nicole, Tom dated Penélope Cruz – whom he starred alongside in Vanilla Sky – before dating Batman Begins' romantic female lead Katie Holmes in 2005. The pair would have a daughter and marry the following year – before the divorce lawyers were called in in 2012.
One constant across all those and future relationships, however, was his devotion to the Church of Scientology. Introduced to what in some quarters is described as a cult, by others a new religious movement, by his first wife in 1986, he has been rumoured to have attempted to convert the likes of Victoria and David Beckham to the cause as well as Will Smith.
One thing it has ensured is that Tom Cruise's reputation has not gone untarnished over the years. But given the superstardom which he has experienced since he hit the big time at 21, he may be forgiven.
Born in July 1962 in New York, Tom's parents were father Thomas, an electrical engineer, and mother Mary Lee, a special education teacher. The family, who spent spells living in Canada, were not well off and he and his three sisters grew up with a Catholic upbringing 'in near poverty'.
His father struggled to keep down a job, and as the family moved with him for each new attempt the young Tom found himself attending 15 schools over the course of his primary and secondary education. His relationship with his father was not an easy one and his parents separated while in was in his teens.
"He was a bully and a coward," Cruise has said, "the kind of person where, if something goes wrong, they kick you. It was a great lesson in my life – how he'd lull you in, make you feel safe and then, bang!"
They drifted apart and were only reunited at his father's deathbed in 1984. Cruise said: "He was in the hospital dying  of cancer, and he would only meet me on the basis that I didn't ask him anything about the past. He was in his late 40s. It was sad. I just thought of what a lonely life he'd led."
With a difficult home life, he discovered the joy of performing at a young age, continuing to develop his talents during his schooldays. By the time he emerged from college he had started auditioning – a task made the more challenging by his dyslexia.
"When I auditioned and was given a script to read cold, I'd get the director and producer to talk about the characters and the film," he explained as to how he got around the issue.
"I'd glean information from them and I'd use that. I got pretty good at ad-libbing."
After getting his first film role in 1981, in Endless Love, his first speaking part came in his second film that same year, Taps. Within two years he was the star of the acclaimed Risky Business, and when Top Gun came along in 1986 he was cemented as a superstar – a position from which he has never dropped.
He may be nearing 60, but Tom Cruise remains one of Hollywood's most powerful and influential figures.
He may not often let the world see behind his personal curtain, but film fans can agree his talents on screen have brought plenty of entertainment over the years – and he shows absolutely no signs of slowing down.