From Gavin & Stacey to Pride and Prejudice, Alison Steadman's career now stretches back more than 50 years – and shows no signs of slowing…
At the age of 74, Alison Steadman has proved a lot of theories about women actors wrong. For in a career that now stretches back 50 years, she has seen a shift in the way female characters are cast in mainstream films and, in particular, television.
"So many actresses' careers would just disappear when they reached 40," she explains. "It was not because they are not good or talented, but because there simply weren't the roles. But this idea you have to be young and sexy to get work is absolute nonsense. It's great that roles are being written for all ages all the time now."
She is certainly grasping the opportunities with open arms.
And she's been no stranger to Kent in recent years, when filming has brought her to the county. She shot the pilot episode of BBC One's 2014 retirement comedy Boomers in Herne Bay – starring alongside the likes of Stephanie Beacham and Russ Abbot. More recently, just last year she braved the cold November weather to film the BBC One comedy Pandemonium in Margate and Reculver, near Herne Bay, which you can see on BBC iPlayer.
Old age, it seems, is suiting Alison just fine: "I look the way I want," she says, "I don't feel any pressure to be something I'm not. Maybe there is for younger actresses, if you were in your 20s and you had to be a skinny Jane or something, but for me I can just do what I want!
"I can't bear hearing people complain about getting old. Ageing is a privilege that not everyone gets to experience. Going on about what you can't do any more is boring and self-defeating. Why not focus on what you can do?"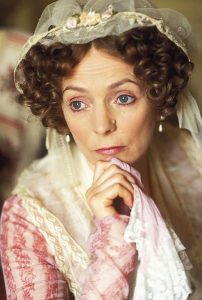 Over the years she has certainly proved that to be the case. From her breakthrough performance in the likes of Nuts in May and Abigail's Party, she has defined herself to each passing generation. From roles in the likes of The Singing Detective and Pride and Prejudice to comedy roles in Fat Friends and a recent big-screen revival of Dad's Army, Alison has ensured she has always kept in the public eye.
For today's audiences she will be known for her role in the Canadian TV hit Orphan Black; returning to star alongside John Cleese in the sitcom Hold the Sunset (the pair were husband and wife in 1986's Clockwise); and, perhaps most notably, in the BBC's comedy success Gavin & Stacey.
As Pam, mum of Gavin, she found herself part of the biggest hit of the 2019 Christmas TV schedule as the show returned for a special one-off which pulled in more than 17 million viewers. "I don't normally watch myself back on TV as I think look old and fat," she says, "but with that Christmas special I watched it several times – I loved it so much."
And with its return ending with a cliffhanger which suggested it could be revived once more, does she know when we might see the cast reunite? "We don't know if there will be any more, and that's the truth," she admits. "But if there was anything else, I'd want to be involved.
"The problem is it takes a lot of work to write Gavin & Stacey as brilliantly as Ruth Jones and James Corden do and they're both so busy, so I don't know what the future holds."
She keeps in contact with both Ruth 'Nessa' Jones and James 'Smithy' Cordon, though, so the smart money will be on her being among the first to know if we are all to return to Barry Island in the future. "All I can say," she adds, "is they did the Christmas special, which we weren't expecting, so you never know."
Hailing from Liverpool – Alison was born in 1946 in the same hospital as a certain John Lennon – she quickly realised her ambition was to be an actor. She recalls: "I loved school, especially art and drama, but I didn't do well in my exams. 
"My father was a bit upset by that. I kept saying I want to be an actress. He would tell me I couldn't do it as it was such a precarious job. He told me I should learn some shorthand and typing skills so I had something to fall back on.
"I remember when I was 17 and I was thinking I'd like to go to drama school but I was a bit apprehensive. But I had this wonderful teacher in youth theatre who said to me: 'Alison, you should do it. Do it because I don't want you one day to be standing there saying to yourself: If only I'd become an actress.' And I'll never forget those words." 
After securing a place at the East 15 Acting School, she set her focus on the stage. Her life-changing moment came when playwright Mike Leigh spotted her and asked her to appear in a film. The pair would marry in 1973!
He penned Nuts in May and Abigail's Party in a string of plays for the BBC in the 1970s which proved a huge success – and catapulted his young wife, who starred in both, to fame. "Nuts in May," recalls Alison, "is one of my favourite things I've ever done. It was fun; we were just improvising and going on walks. It suited me, even though it was over the top."
Abigail's Party remains a classic of its time – a role she reprised from the stage for the TV production in 1977, aged 30, while pregnant with their first son, Toby. "I'm proudest of Abigail's Party because we improvised, so I had a lot of input. But if anyone had told me all these years later people would still be talking about it, I'd struggle to believe you."
The couple remained married until 1995 before divorcing in 2001. They have two sons, Toby and Leo.
For more than 20 years she has been with actor Michael Elwyn (who, among other roles, portrays Charles Moore in a recurring part in Coronation Street). They live in Highgate and have a holiday cottage in Dorset. And they've never been happier – especially since grandson Freddy arrived.
"I really appreciate how wonderful it is to enjoy doing things with someone at this stage of life," she reflects on her life with Michael, "knowing we'll be together until one of us flies away up to heaven."