Emma Corrin has dazzled as Princess Diana in The Crown – now she's getting ready to take on the world.
The royal family has been the centre of heated debate over recent weeks. But while the rights and wrongs of the most recent allegations made against them continue to be discussed far and wide, it reminds us all of how fascinated we remain with the much-loved monarchy.
And that is perhaps no better demonstrated than by the remarkable success of The Crown, Netflix's expensive dramatisation of the trials and tribulations of The Queen's life and reign.
Few would deny the arrival of Diana Spencer – later to become the Princess of Wales – was one eagerly anticipated by viewers. The big question was just who to cast in a role which carries such emotional weight for so many.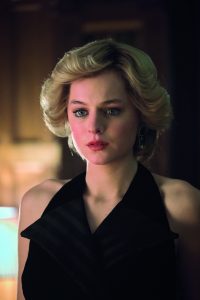 Enter our own Kent actrss, Emma Corrin. Born in Tunbridge Wells, and raised at her £2.5million family home in Sevenoaks, the 25 year old bears an uncanny resemblance to the woman who would become known as the Queen of Hearts
"I think growing up," Emma explains, "I had this overwhelming awareness of her relatability and that people seemed to adore her for being very empathetic and very caring. I very much grew up with the whole 'the People's Princess' understanding of who she was."
But her casting as the young princess-to-be was no straightforward affair. The young unknown actress was called in by her agent to help those casting the show to assist with read-throughs of the script as they sought someone to play the Prince of Wales's other love interest at the time, Camilla Parker Bowles.
The director was suitably impressed with what he saw and asked her to work on how she could bring Diana to life on screen. Eight months later she was hired!
And, she admits, the biggest challenge was replicating Diana's voice. "It's unique," she says. "She was a Sloane Ranger. For that, you drop your jaw at the end of every sentence or phrase, and it makes everything slow and long. But it wasn't just that, she had this incredible lilt.
"The way I heard it, she always sounded a little bit sad. There was a quality to it which I realised was important to her character."
But her role in the show is relatively short-lived, portraying Diana as she captivated the world. The next season will see Australian actress Elizabeth Debicki take over the reins – a period which is likely to include Diana's tragic death in Paris in 1997.
"Though I'm sad I only did one series," she reflects, "I always knew that was all I was signing on for, and I played her from 16 to 28. I took her from girl to woman, and I loved that arc. But I'm also quite pleased to move on. The industry loves to pigeonhole. The sooner I can move away from doing posh English the better, even though that's what I am!"
The role has catapulted Emma from an unknown to a rising star. Last month, her portrayal of Diana saw her win a coveted Golden Globe Award as Best Television Actress – Drama Series, hotly followed by Best Actress in a Drama Series at the Critics Choice Awards. This gives her a massive dose of credibility on both sides of the Atlantic.
Born in 1995 – less than two years before Diana's untimely death – she, too, has enjoyed the trappings of success. Her parents – her father a businessman and her mother a South African speech therapist (who helped her train for the Diana role) – sent her to a private Catholic school in Oxted, just over the Kent and Surrey border.
And it was at the all-girls boarding school she discovered her love of dance and acting. "I don't remember when I made the decision to be an actor," the star, who has two brothers, says. "It was just clear that I had a very keen interest. I wrote a lot as a child. I had an insane imagination. I spent a lot of time outside creating worlds; I put on a lot of plays."
Having already taken on drama roles in primary school productions, she was 16 before she started thinking seriously about a career in front of the cameras.
"I wanted to quit school and get an agent," she admits, "but my parents wouldn't let me. They wanted me to have another option, to get a degree under my belt."
Wise words which she would no doubt dwell on after twice being rejected for drama school.
Instead, she went to Cambridge and studied education. But she kept up her love of acting – becoming a model to earn extra money – and the rest, as they say, is history.
"I was a huge tomboy when I was younger," she reflects. "I refused to dress in feminine clothes until I was about 13 or 14. Going to an all-girls school was good in some ways because there was no pressure to look a certain way for guys. I didn't really ever go to school wearing make-up, and also I wasn't very interested in it.
"Even now I am most comfortable not applying lots of make-up when I do wear it."
Although her new-found experience of fame has been an unusual one. The normal round of interviews and media appearances around the world, followed by celebrity parties, has been knocked on the head courtesy of the pandemic.
"It has been so strange and rather sad," she says. "But a friend said to me recently that it has meant I've been able to keep focused and not get distracted by the whole celebrity circus. I've also been able to come to terms with the sudden interest, and it has been more manageable, which is probably a blessing in disguise."
Few would bet against a very sunny future for the young Kent star. Later this year she will tread the West End boards for the first time professionally when she performs in Anna X at the Harold Pinter Theatre – lockdown easing permitting. She also appears with Harry Styles in upcoming drama My Policeman, and has been tipped to star in a new production of Lady Chatterley's Lover.