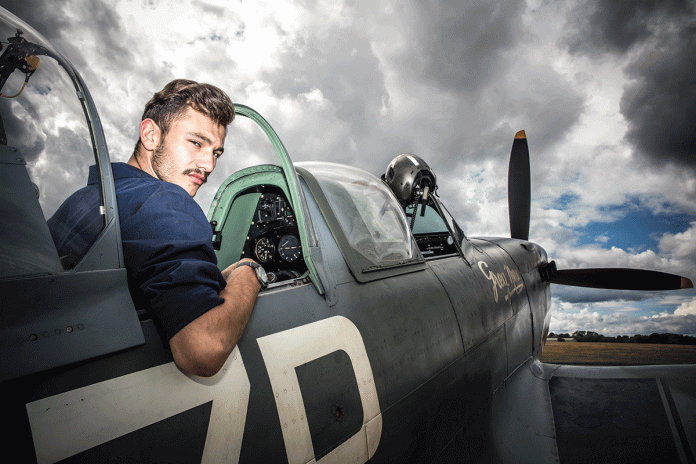 During the Battle of Britain RAF pilots were often aged 19 up. Today many dream of emulating them but few achieve it. One who did – by obtaining his pilot's licence at 18 – has gone on to fly Spitfires. Robin J Brooks tells the tale of one of today's 'Few'.
Alexander Charles Monk was born on 24 September 1998 into an aviation family. His father, Peter Monk, was a commercial airline pilot whilst his mum was an air hostess, so as a young boy he could not help but be fascinated by aeroplanes. 
Among the presents he would receive each Christmas or birthday at least one or two would be aviation-related, and seemed to become more technical with each passing year.
At junior school, Alex become a favourite with his friends due to the fact that by the time he was eight he was already very knowledgeable on the subject of aeroplanes.
Alex then moved to grammar school. It was at this time that his father set up a business restoring warplanes, in addition to acquiring an American Piper Cub. This was the L4 version known also as a 'Grasshopper' which was used extensively in the European and Pacific theatres of the Second World War.
Resplendent in its original camouflage, and seating two tandem-style, it was this plane that introduced Alex to the world of flying.
In his own words: "This was the first informal lesson I had when I was 12 and Dad offered to take me up from Biggin Hill. Sitting in the front seat and hearing the little single engine purring away and with the smell of petrol and oil, I knew that this was for me.
"When Dad said take hold of the stick, I did. It felt right, and although I knew that he was ready to take control if I did something silly, he did not have to. This was heaven!"
This introduction to flying was to set the pattern for the next few years of his life. First, though, there was a deal to be done. This was between Alex and his parents and consisted of something like 'finish your GCSEs, go on to A levels, and then we will see'.
He took it up with his eye on what he knew was his future vocation. Though exams did not come easily, he achieved good marks, and with the blessing of his parents Alex – now 16 – prepared to take his first formal flying lesson.
This is perhaps the point where he began his career in aviation. As a student pilot he excelled, so much so that within a few months he had flown solo. All that early flying with his dad in the Cub had made sure of that.
Having achieved that goal Alex now entered the period of A levels at school and, for a brief period, flying took a back seat.
"Another sort of life took over and I had to knuckle down to my A levels," said Alex. "After all, that had been part of the deal with my parents all those years ago."
He stuck to his part of the deal and finished his A levels with good results, which allowed him to continue his flying lessons until, at the age of 18, he passed the final flying test and received his pilot's licence.
Having now left full-time education, it was obvious that Alex would join the family firm, which by this time had grown to an unbelievable size and was known as the Biggin Hill Heritage Hangar.
Tasked with restoring Spitfires back to flying, the heritage hangar had grown from just one Spitfire Mark 9 TA805 to seven or eight different marks, together with a Hurricane and, of course, the Piper Cub.
Having mastered the technicalities of flying, Alex joined the company on the shop floor determined to learn all that he could about the engineering side of restoring a Spitfire back to flying. After a few years in which he learnt very quickly, the restoration of a Mark 9 Spitfire MJ755 became the first complete aircraft in which he was heavily involved. This Spitfire was purchased by a Greek consortium with the intention of flying it back to Greece once completed.
During its restoration it was the subject of a six-part More4 TV documentary which showed all the aspects of a restoration, with Alex as the main interviewee. His knowledge at the age of 22 became very well respected throughout the aviation industry.
With the Spitfire complete, it departed for Greece and everyone agreed that it was a first-class job done.
However time-consuming his responsibility as a team leader was, Alex still continued to find time to fly the Cub. Then came the point to push that up a notch, and from the little Cub he moved on to the hangar's North American Harvard trainer – deemed by many as the next best aircraft to train on when considering flying a Spitfire.
Alex began a series of flights under the watchful eye of Jez Britcher, one of the hangar pilots. Harvard G-CTKL was an aircraft four times heavier than the Cub but really proved no problem for young man.
After a series of circuits and bumps and overland flights with Jez it was handover time to another instructor. This was in order to get a 'complex aircraft sign out', which would enable Alex to fly various categories of aircraft such as fixed or retractable undercarriage, fixed or controllable pitch propeller, etc. He passed this without any problems, thus getting another step closer to his ultimate goal – to fly a Spitfire.
Back in the hangar, I asked Alex what his favourite aircraft was. "Without doubt I have a very soft spot for a P.47 Thunderbolt, and have a lot of time for it considering what it achieved in Europe," he said. "Given the opportunity I would definitely like to fly one."
Least favourite? "I don't think that's possible – each and every aircraft has its good and bad points. I really do not have a least favourite. Even a Walrus or Sea Otter, even though they look ugly, they are beautiful in their own way.
"I prefer not to fly other owners' aircraft from a liability point of view because if something happens I don't want to be held responsible. I will only fly an aircraft that has been maintained by myself or by one of the engineers in the heritage hangar."
With the required hours on the Harvard, it was the right time for Alex to sit in the front seat of a two-seat Spitfire at last.
At first it was just taxiing from the hangar to the parking pad, but soon it was time for the real deal. The aircraft chosen was Spitfire MJ627, a wartime veteran that had shot down an ME109 over Arnhem in September 1944.
Converted to a two-seat for the Irish Air Corps, it had originally been flown during the war as part of No 441 (Silver Fox) Squadron of the Royal Canadian Air Force, and was now used for public experience flights, and Alex was usually one of the maintenance team on this particular aircraft.
Swapping his overalls for a flying suit, Alex clambered into the front cockpit, and with Dad Peter in the rear seat giving him every form of encouragement possible it was 'clear prop, chocks away', push the throttle forward and listen to the roar of the Merlin engine.
Taxiing down to the lower end of runway 03/21, a stop was made to check all was well, and with clearance from Air Traffic Control Alex pushed the throttle forward to fully engage the engine. So began the reality of a young man's dream to fly Spitfires.
After flying 627 on several occasions it was then time for Alex's first solo flight, bringing back memories of his initial solo in the little Piper Cub. This time it was Spitfire TE308, another two-seat conversion for the Irish Air Corps. Taking off from Biggin Hill, Alex flew cross-country before landing back to much clapping and cheering.
Now it was time for him to fly a single-seat Spitfire, and it was obvious that the aircraft chosen would be TA805, otherwise known as 'the Kent Spitfire', and the very first Spitfire that Peter had restored to flying with the help of his then very young son!
With the absence of a rear seat and cockpit the Spitfire looks exactly as it is was meant to, a thoroughbred. Fit in the pilot and both he and the aircraft are as one. This was the feeling that 23-year-old Alex got as he closed the hood and fired up the Merlin.
Just like those young men who flew Spitfires during the war, many find the adrenaline kicks in immediately. I asked Alex if this happened to him. "Yes. Once you step into the cockpit and strap up you cannot help but feel and remember that similar aged young men as me did this in the war. But it is not quite the same, I am flying for pleasure, and flying to defend the country is an entirely different situation.
"Although it helps that I shall be flying from Biggin Hill with all its history, and especially if I fly during the month of September, which was the pinnacle of the Battle of Britain.
"Everyone said to me that once you get into the cockpit you strap a Spitfire on, you really become one, and that is quite true. You put the parachute on, strap in and fire up the Merlin. The smoke and the noise of the engine, the smell, it all contributes to that certain thrill."
To follow in the footsteps of those whom Winston Churchill called his 'Few' and fly a Spitfire must surely be the ambition of every pilot. For Alex, who has achieved this, is there any other ambition that he could hope for?
"The more I think about it, I think I would like to fly every Mark of Spitfire produced," he said. "Remember, there were 24 Marks of the aircraft, so some way to go. No one has ever completed this since wartime active service and I don't think anyone will, but I would like to try. Also, with the Mark I we are restoring here in the heritage hangar to fly, that would be the icing on the cake."
There is no doubt that 23-year-old Alex will achieve anything he sets his mind to.
With his knowledge of what makes a Spitfire tick and his incredible flying skills at such a young age, to quote a common phrase, for him 'The sky's the limit'.
Pic: © Ryan McNamara/Whitworth Media