With a decade under our belt here at MMM, Rasa Dregva takes a look back over the highs and lows of the last 10 years, and says cheers to the next 10!
If a week seems a long time in politics, 10 years in publishing sometimes feels like a lifetime! But what a ride we have all been on here at MMM. And we cannot quite believe a whole decade has gone by since we created the media company that launched our first magazine.
So much has happened during that time, including us going from a tiny operation with one local magazine to a fully-fledged publishing operation with four county-wide titles under our belt.
We've been nominated for (and won!) a host of awards, we've moved into our own offices, our team has constantly grown as we've evolved, and I can safely say we are stronger – and better – than ever before.
Along the way I have been privileged to meet so many wonderful people.
And as I reflect on a remarkable first 10 years, I am always reminded of some very sage advice I received from a man who has fought not just to be a success but to simply survive.
Not long after we had started publishing MMM, I was attending an event at the Mercure Maidstone Great Danes Hotel where the special guest was boxer Michael Watson.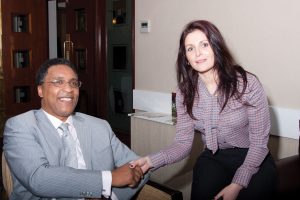 You may remember he had been involved in a WBO super-middleweight title fight with Chris Eubank in 1991. On the cusp of victory in the contest, he was caught with a devasting punch.
Left unconscious in the ring, he suffered terrible brain injuries, and after months in a coma managed a slow, and heroic, recovery. His tale of overcoming the odds was, and always has been, truly inspirational to me. 
We sat together on a sofa at the hotel and I explained I had just launched MMM. He turned to me and, speaking in a slow voice, said simply: "Rasa, if you do it from the heart, it will work."
I often recall what he said and, you know what? He is absolutely right.
So, even when we faced what seemed like insurmountable odds in 2020 as the world locked down because of the pandemic, we all firmly believed in what we were doing.
This was never more apparent than when we prepared to celebrate our 100th edition last year. 
Originally we had planned to host a special charity gala night to mark the occasion – a glittering event where all those who had supported us over the years would be able to join us to raise a glass. The golden tickets had been printed, the guests invited, the charities chosen, the ballgowns pressed, and huge excitement had filled the air.
Then suddenly MMM, which like all free publications relied totally on advertising, went from celebration to devastation, with all of us wondering how we could keep going.
After Covid arrived everything – including our champagne – had to go on ice. We went from a huge high to a stunned low as the reality of the county, and country, shutting down around us was felt.
Yet, drawing on that advice I received, we dug in, and instead, to mark our centenary edition in May 2020, we produced a heartfelt special issue dedicated to and celebrating those who work within the NHS and other key workers. 
It was such a success it became a finalist in the Kent Press & Broadcast Awards for the new and special 2020 Award for our commitment to the community.
Talking of awards, in 2018 I was thrilled to win the Leadership & Management Award at the Kent Women in Business Awards. It was such an honour to be recognised in this way.
Since then I have been proud to join the KWIB Awards judges panel and help celebrate those women who are making a difference with their entrepreneurial spirit.
As publisher of the county's leading luxury lifestyle magazine, I have also had the pleasure of judging the Kent Health & Beauty Awards, which we feature in this issue. 
That entrepreneurial spirit I referred to has certainly helped us here at MMM Media.
Not content with expanding MMM (which started life as a simple abbreviation for Maidstone Medway Magazine, but had such a catchy ring we stuck with it as we expanded countywide), we now also publish three other titles. 
I'm sure you're all avid readers of them already! There's Kent Best Attractions, Kent's Best Places To Dine, Time for Tea and, of course, our glittering Marvellous Christmas in Kent guide. Along with MMM, they all celebrate this amazing county of ours, because, ultimately, we are all only as good as the people around us.
And not only am I blessed to work with a fabulous, hard-working, committed team, but I work in a county full of supportive businesses who have been so instrumental in our success – and, of course, our tens of thousands of readers. 
You are all the real secret to our success. Long may we all continue!
THE HISTORY OF MMM
It was about 11 years ago that I felt there was a place in the local market for a quality magazine – one bursting with colour, lifestyle guides, fashion and celebrities.
I wanted to deliver what I, as a reader, wanted to see. Inspirational and aspirational people and places; all with the goal of celebrating where we live, who we are, and the potential our lives have to offer.
Back then, having worked in local media for 10 years, I was well aware of the needs and demands of businesses facing some of the toughest economic challenges in years, so my aim was simple – to deliver a quality title and make it a publication that was perfect for them to get their message out to the widest possible audience.
The first few issues were a blur of hitting deadlines, working out page designs and layouts. I had some wonderful friends and previous clients who supported us and helped get MMM off the ground. To them I will always be grateful.
It quickly became apparent that MMM's popularity was breaking out of its Maidstone and Medway heartland. We had advertisers coming to us from Swale and Ashford and they just kept on coming.
So MMM dropped its geographic limitations and became a truly Kent-wide publication. It is something we did not expect but were keen to embrace. And as our circulation grew, so did our reputation.
We constantly looked to better ourselves – revamping our design and editorial quality. We embraced new technology and new ways of doing things. The lockdown even demonstrated to us that we could survive, and keep printing, even when we were all confined to our homes!
Creating MMM has been something of a rollercoaster ride over the years, but the highs have always outweighed the challenges and it remains something I am immensely proud of.
I hope you would agree we have grown considerably over the last 10 years. And this is only the start of the journey.
Feedback from you will help shape our future, so please never hesitate to get in touch. 
We always love hearing from you.