Netflix's Regency drama Bridgerton has taken the world by storm, offering the perfect escapism during a challenging era.
Once upon a time, if you wanted to escape into a piece of quality period drama, then you'd look to the BBC. The broadcaster's many adaptations of the likes of Jane Austen novels won it a global reputation. And where once Colin Firth emerging dripping wet from a lake would set hearts a-flutter, today the global audience has become a little more demanding.
Enter Bridgerton, a series perhaps designed for the modern age, albeit set in Regency England. It was served up to an audience desperate for a little escapism on Christmas Day on the streaming service Netflix and, since then, has been viewed by more than 60 million households worldwide. And that figure is only set to grow as word of mouth sends more and more us in search of the much-talked about show.
It's glamorous; the fashions often breathtaking. The settings are beautiful; scenes were filmed in various locations around the UK, among them Bath, York and London. And, of course, no period piece worth its salt fails to use the splendid architecture of The Historic Dockyard Chatham, with crews shooting at the site for a number of key scenes, including boxing.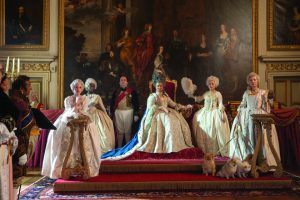 But it is the on-screen chemistry between its two stars – Regé-Jean Page as eligible bachelor Simon Basset, the Duke of Hastings, and Phoebe Dynevor as Daphne Bridgerton, the eldest daughter of a powerful family who is on the search for a husband – which have made such an impact. And it's fair to say that some of the scenes are so sizzling they make that Colin Firth Pride and Prejudice episode fade into insignificance.
Chris Van Dusen is the creator and executive producer of the show, which is based on the best-selling romance novels of Julia Quinn. "I'm so proud of the show and I'm so proud of the cast and the crew," he says, as he reflects on its remarkable success so soon after its release.
"I'm overwhelmed with the response – its surreal. The response has been so positive and so exciting. I've always been a fan of the period genre. That Colin Firth scene is seared into my brain. But as much as I love a good period piece, they're considered a little traditional and conservative. I wanted to put my own fresh spin on the genre. I wanted to make the period piece that I always wanted to see, and one I hadn't seen before."
He's certainly done that.
And it came as something of a surprise to US author Julia Quinn, too, who bailed out of medical school in the 1990s after landing her first publishing deal. She recalls: "I was just sitting in Starbucks in Seattle, where I live, and I got a call from my agent. He said: 'I heard from one of Shonda Rhimes' representatives. They're curious whether the rights are available to the Bridgerton books. If so, are you interested in having them option it?' I was like: 'Yes, is this a trick question?'"
Shonda Rimes is the producer of the show, and a woman who knows her way around a hit TV series, being the co-creator of the long-running Grey's Anatomy and How To Get Away With Murder. She'd signed a rumoured eight-figure deal with Netflix to bring compelling TV to the streaming service after quitting Disney-owned ABC in America. And it seems her Midas touch has not deserted her.
The two young stars of the show – who both had previously appeared in the BBC's school drama Waterloo Road – have been seen as key to its success. And Phoebe Dynevor is certainly no stranger to the world of TV fame. Her mother is Sally Dynevor, who for the last 35 years has starred as Sally Webster in the top soap Coronation Street.
But despite that, Phoebe found sitting next to her mum during some of the raunchier scenes of Bridgerton a bit of a challenge at times. "I had to sit there and fast forward on high alert with the remote control," she jokes. "We managed it, just about. I'm really close to my parents and my family. They have shaped me every way they could and provided me with such an amazing support system.
"I'm so proud of what Bridgerton stands for. I couldn't think of anything else that I would want people to know me for."
Rumours of an off-set romance with co-star Regé-Jean Page have been laughed off. "I think that everything you need to know is on camera," says Regé-Jean, "and all the sparks that flew come off the beautiful script that we were handed."
But the actor who portrays Simon Basset is under no illusion as to why the show has become such a success story. "It is a glamorous, ambitious Cinderella fantasy of love and romance," he says. "It's a warm Regency hug – a wonderful escapist fantasy of ambition and romance and a reminder of the joys of social connection in a time where we have struggled to be able to see one another."
The fashions certainly play a key role, with gowns and period attire allowing the viewer
to be whisked away to the centre of a time long past. Marc Pilcher was the hair and make-up designer on the show. He explains: "It was such a pleasure working on Daphne as she needed to be youthful, simple and elegant.
"My designs were derived from images of Audrey Hepburn in the 1950s film War and Peace. That film, although made in 1956, was also set in the Regency period and the look suited Daphne to the ground. I love the English Regency era."
Hair and make-up supervisor Lynda Pearce is equally as effusive over the handsome Rege-Jean Page. She added: "He was so friendly and kind and we always chatted so much on set. He is one of the loveliest guys that I have worked with, a complete pleasure."
Fans will have been delighted by the recent news that Bridgerton is to return for a second season, cutely announced via Lady Whistledown's Society Papers! Filming begins this spring. We can't wait…
• Bridgerton is available to stream at netflix.com