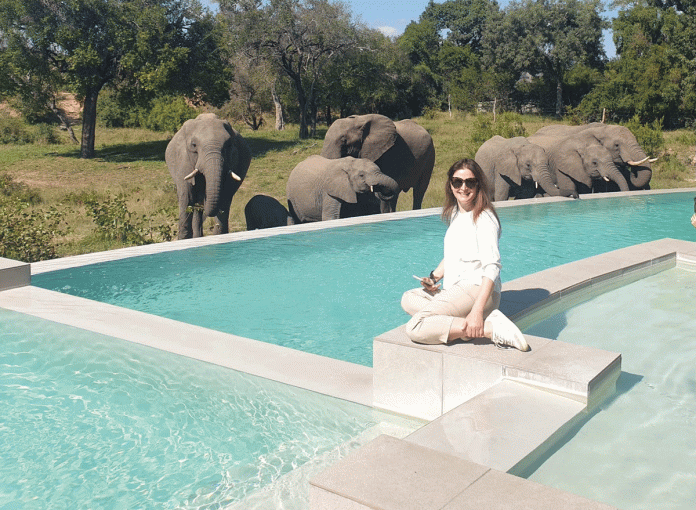 MMM'S Rasa Dregva waited three years to go on safari in South Africa – she recalls a magical two weeks and how one creature's bite left her in A&E!
Three years ago my sister Evelina and I had planned to celebrate her birthday in style with the holiday of a lifetime. 
We were going to travel to South Africa and go on safari – fulfilling a dream. But then fate intervened…
After the holiday was booked in 2019 for 2020, the pandemic's arrival put paid to our best laid plans. Our excitement levels were pushed below the surface as all the restrictions, including travel of course kicked in.
Then, finally, a few weeks ago South Africa opened its doors for the return of tourists. At last we were told we could travel!
We packed, we allowed our spirits to soar, and off we went.
We jetted out to Johannesburg before boarding a 30-seater propeller plane to take us on a short internal flight, north-east, to the town of Hoedspruit.
The African flight experience could not have been more different than that which had taken us from London.
We flew low over the green landscape which stretched out below us. We peered out to see the Blyde River Canyon, full of lush subtropical vegetation, and were able to drink in our surroundings.
Our arrival at the small provincial airport reminded us we'd come a long way. The 'terminal building' was about as big as our office at MMM. But what it lacked in size it made up for as the gateway to nature's riches.
The town of Hoedspruit is perfectly positioned. On its doorstep are the famous game reserves of Timbavati, Selati, Klaserie and Karongwe.
We met our driver and the final leg of our journey was under way – we were headed to perhaps the most famous reserve of all, Kruger National Park. Our final destination was the Ngala Private Game Reserve, nestled within the park.
Kruger National Park is recognised as one of the largest (it stretches for 220 miles) and most spectacular wildlife sanctuaries in the world. We dreamt of what amazing animals we would be able to see over the coming days.
We didn't have long to wait. On the journey we spotted elephants, zebra and buffalo.
At one point our car was forced to stop to allow two giraffes, a mother with her child, to cross the road. We hadn't even reached our lodge.
Our home for the next few days was the Ngala Safari Lodge – one of 20 thatched cottages nestled deep within the reserve.
As we arrived we were greeted by the General Manager, before admiring the outside pool and communal areas and looking in awe at the stunning natural landscape which surrounded us.
If you get in a flap over birds, then some of the species on show while we took a relaxing swim in the pool were mesmerising.
Our cottage was beautifully decorated, with floor to ceiling windows allowing us to gaze out at the park and watch the creatures roaming nearby.
As part of the package, there were twice-daily drives to explore the landscape. This is what we had been most looking forward to over the last three years.
The first was an early start. Leaving at 5.30am we boarded trucks that reminded me of a tank – powerful vehicles capable of both keeping us safe and of handling the terrain.
The second was in the afternoon and into the evening, when powerful spotlights picked out the creatures lurking nearby as the sun disappeared over the horizon.
Any anxieties we had of being so close to such majestic creatures quickly disappeared.
Of course, it's all very well seeing these unforgettable sights, but the real value was delivered by our guide, Dyke. He's worked at the lodge for 33 years and his expertise and knowledge were clear to see.
From identifying birds through their song to following tracks in the dirt, he opened our eyes to what we were witnessing.
He read the signs of broken overgrowth, picked up their scent on the breeze, could identify animals by the droppings they left behind, and was only too happy to pass on his encyclopedic knowledge. He seemed to have a sixth sense when it came to where the animals were moving to and how to spot them.
With him joining our group of six people assigned to his truck, we were able to see the Big Five – lion, leopard, black rhino, elephant and buffalo.
Reassuringly, the animals are treated with the upmost respect. There is no human interference – just the opportunity for us to watch them go about their normal lives. A rare treat.
For those of us in the truck – we met and became friends with Penny and David from Texas and Roz and Bernie, a Canadian couple who live in Cairo – the trips were an assault on the senses.
Even the plant life was fascinating. Marula, a distinctive tree native to southern Africa, provides the fruit for the cream liqueur Amarula. (Penny had her own recipe which she shared with us – hot chocolate,
coffee and Amarula. It was delicious.)
Yes, seeing these magnificent animals in their natural environment was an incredible experience, yet on an equal footing was the magic of watching the glorious sunrises and sunsets. 
It's hard to put the feelings into words, but they really could take your breath away.
As we flew back to the UK we were both able to reflect on a wonderful trip. But what I hadn't realised is that one creature had taken a bite out of me. A mosquito.
For reasons I won't bore you with here, I'd decided to stop taking my malaria tablets halfway through the holiday. A mistake.
Shortly after arriving home I started to feel unwell. Within hours I was rushed to hospital where I had to be treated for, you guessed it, malaria. Let this be a lesson to you all!
Fortunately, I did not seem to have a serious case, but it left me feeling unwell for many days. If only I'd kept taking those tablets.
But this final piece of drama did not detract from what had been an amazing trip – and one I will long remember.
If you're thinking of going on safari I would strongly recommend it – there really is nothing quite like it on Earth.
Will I be going back? Yes (I didn't manage to see hyenas or wild dogs so they will need to be ticked off my list).
And if you do go, just don't forget to complete your course of malaria tablets!