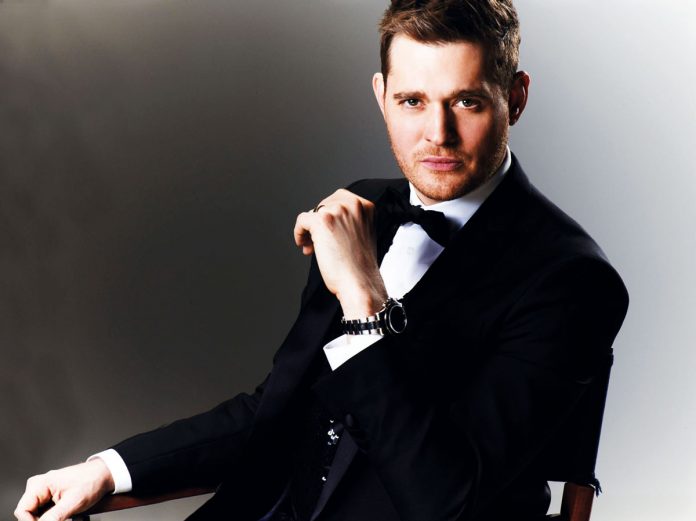 Michael Bublé is a global household name, but his proudest moment was seeing his son recover from life-threatening illness.
When Michael Bublé steps in front of thousands of adoring fans in Canterbury this summer he may ponder whether a trip to nearby Whitstable is in order.
Because at the age of 14 the soon-to-be global singing sensation would spend his summer working as part of the crew on a working fishing boat – heading towards Alaska to catch salmon on a commercial scale.
It was something of a baptism of fire for the youngster.
Joining his father, who worked on the boats, he would work long hours – often 20 hours a day and for weeks at a time.
"It was dangerous work," the 46-year-old multimillion-selling singer reflects. "The most deadly physical work I'll ever know in my lifetime.
"We'd be gone for two, sometimes three months at a time, and the experience of living and working among guys over twice my age taught me a lot about responsibility and what it means to be a man."
It certainly installed in the young Canadian a work ethic which would ultimately see him become a household name and worth around £60million.
And to overcome some heartbreaking family trauma in recent years after his young son was diagnosed with liver cancer.
Not that Michael ever harboured ambitions to follow his father into the fishing industry. He claims to have known he wanted to be a singer as a child – but his first big ambition was to become an ice hockey player.
There was just one problem.
"The truth is that I sucked," he admits. "If I was any good at hockey, I probably wouldn't be singing right now."
And millions of fans are probably grateful he couldn't cut it on skates.
After working the clubs as a singer after falling for the dulcet tones of the likes of Frank Sinatra, Ella Fitzgerald and Stevie Wonder, he set his sights on becoming a professional performer.
But it would not be until he was 25 that his big breakthrough came.
After coming to the attention of an aide to Canadian Prime Minister Brian Mulroney, Michael was invited to sing at the wedding of Mulroney's daughter.
And it was there he met the record company executive who would sign him up.
Having self-financed three albums in his native Canada, Michael's first major label album, released in 2003, proved a hit around the world.
Later that year he would release an EP of Christmas songs – and his association with the holiday season was established.
After a string of hit discs and a dedicated festive album in 2011 he was everyone's favourite old-school crooner.
Michael's association with the season of goodwill is one, he admits, which can sometimes be grating.
"Christmas music reminds me of rich food," he says, "when you haven't had it in a while and are so excited for it and you eat as much as you can.
"But by December 26 you don't ever want to hear it again! But there are worse things than a season where people are kind."
However, after years of success Michael faced his biggest challenge in 2016.
In 2011, he had wed long-time sweetheart Luisana Lopilato, a singer and actress from Argentina, and they had their first child, Noah, two years later.
But when Noah turned three the family were delivered devastating news. The young boy was diagnosed with hepatoblastoma, a form of liver cancer in children, and everything ground to a halt.
Michael cancelled tours and put other commitments on hold. It would provide him with his first break from back-to-back touring for almost 10 years.
Yet, thankfully, after undergoing intensive chemotherapy and radiotherapy treatment, Noah went into remission.
"Clinically speaking," Michael explains, "Noah had a tumour which was within the liver. The most important thing was to get it out. Because if you do, it goes from being this scary thing to the odds improving dramatically.
"No one likes talking about percentages, but, honestly, now we are in a position where we can live our life and not live in fear every day. We know we're OK now.
"But what we went through was just brutal."
And it's had a profound impact on the singer.
"I don't wish that kind of pain upon any human being," he says, "but I do feel that when you've truly suffered, when you've truly felt fear and loss, it allows you to live a deeper life."
Michael and Luisana are now the proud parents of three children.
And, having experienced drama with Noah, Michael is determined that his family will always come first.
"I will never allow my job to interfere with being a father and a husband – that has to be first. Everything else is a bonus.
"I think I have a lot of integrity in whatever I do work-wise, but that integrity is there because my family keeps me grounded.
"Like anyone who wants to make it in this business, you have to prove yourself and fight for every single inch.
"It was all I thought about and that's the reason I am where I am today. But now I always make sure that my priority is being with my family."
And he certainly got to spend an extended time with them during the lockdowns of 2020 and 2021.
He explains: "We brought my mother-in-law, father-in-law and brother-in-law in from Argentina and we all lived together.
"It felt like we were at war with Covid. So I just thought 'we have to respect our enemy at this point, we have to hunker down and we have to try to help each other get through this'.
"I was really happy and fulfilled with my family, and that helped me to be able to write and to create.
"As an artist it was great. As a person, just like everyone else, I was scared."
The pandemic may have been a double-edged sword, but now the restrictions are relaxing Michael is looking forward to once again getting out on the road – including.appearing on stage at Canterbury's Spitfire Ground on Sunday 24 July.
It's sure to leave him Feeling Good!
Pic: © Warwick Saint